← Back to portfolio
The humanity of Delos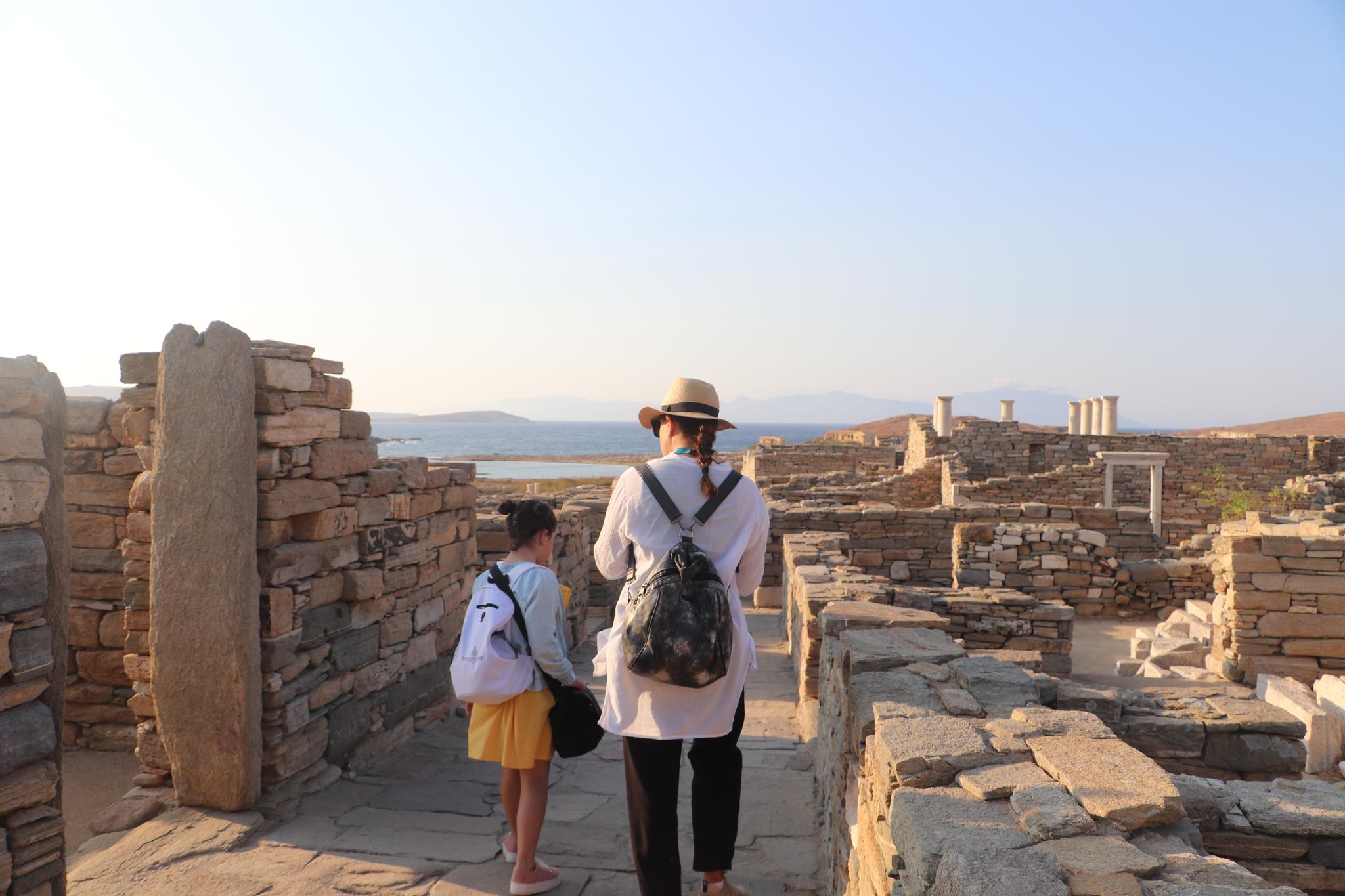 "Are you ready to step back in time?," asks our tour guide.
I feel a surge of anticipation and excitement as to what we are about to discover here on Delos island, one of the largest archaeological sites in the world and a 20-minute ferry ride from Mykonos in the Greek islands. 
I'm joined by my 10-year old daughter and the ancient-history geek within me is curious and in truth, hopeful, that she too may uncover the wonder, fascination, mystery and sparks to the imagination that glimpses into the long-distant past can bring.
Our guide, a beautiful Grecian lady named Amaryllis Grypari, has the undeniable skill of being able to set the scene for us to try and conjure what life was like here some 2,300 years ago when it was a thriving metropolis. She invites us to use our imagination, as we move through the entrance, reminding us that the pebbles beneath our feet are in fact a mix of ancient stones and crushed pottery pieces.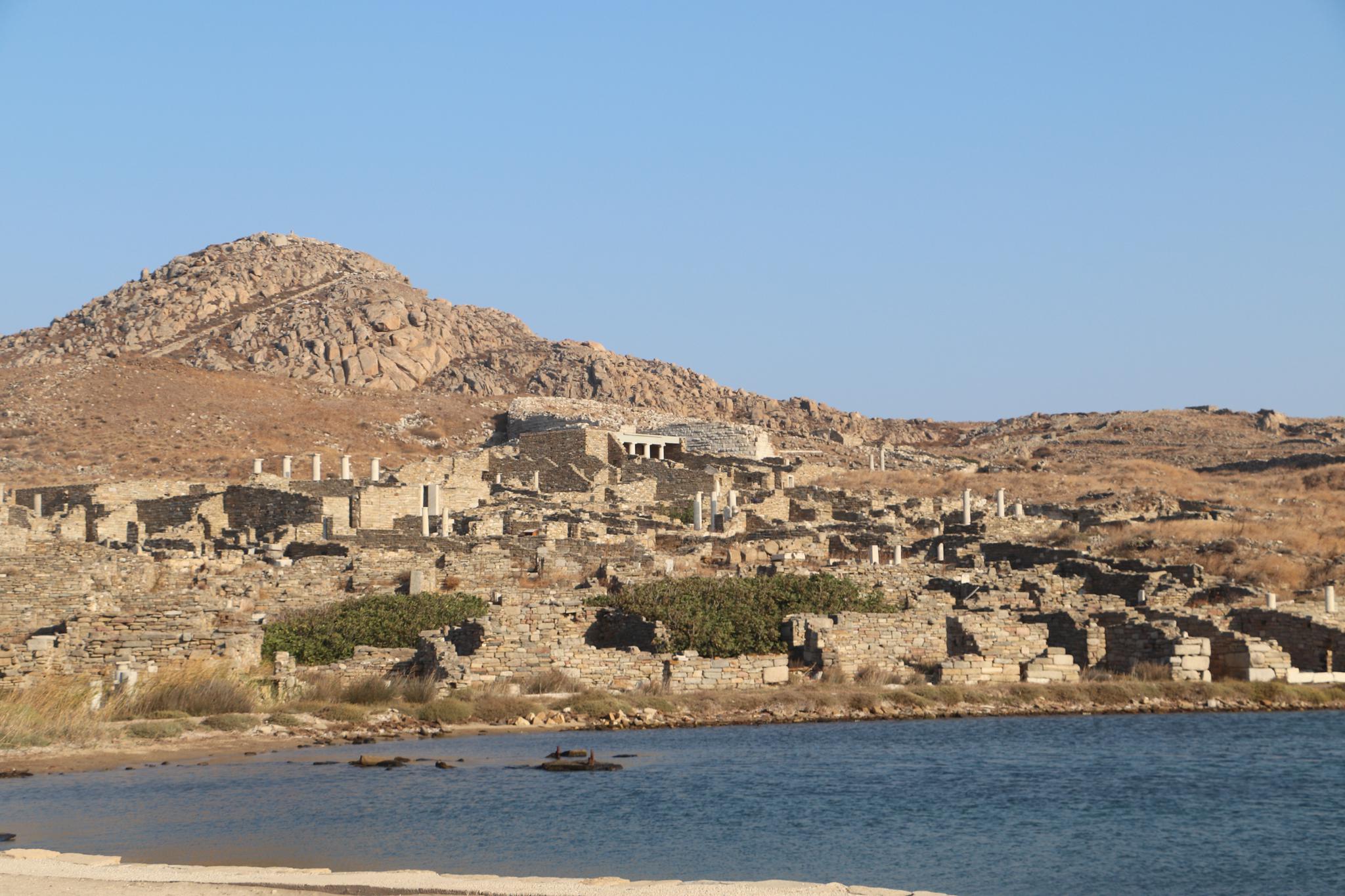 The UNESCO World Heritage-listed site is a popular stop for travellers to Mykonos at the centre of the Cyclades archipelago. The fascination with Delos is credited with putting Mykonos island on the map, due to its close proximity – with the first passenger cruise ship to visit Mykonos in 1920 specifically dropping anchor in order for its guests to visit the historically significant Delos.
The site which spans seven square kilometres was the mythological birthplace of Greek gods Apollo and Artemis – the son and daughter of Zeus and Leto.
"Ninety per cent of what we see here is exactly the way it was found," explains Amaryllis in a surprisingly English accent. I ask if she has ever lived abroad but the Myconian local explains that her mother was the source of her accent. In the early 1970s, her British mum was working as a graphic designer of magazines in London when she went to Mykonos on holiday and fell in love with the place. She moved to the island for six months and, at the wedding of her boss in Mykonos, she was seated next to a man who she eventually married and set up home with. The couple went on to have three children, with Amaryllis being the eldest.
"I'm like the daughter in Mama Mia – only I know who my father is!" says Amaryllis.
With the Mama Mia reference, Juliette is well and truly won over.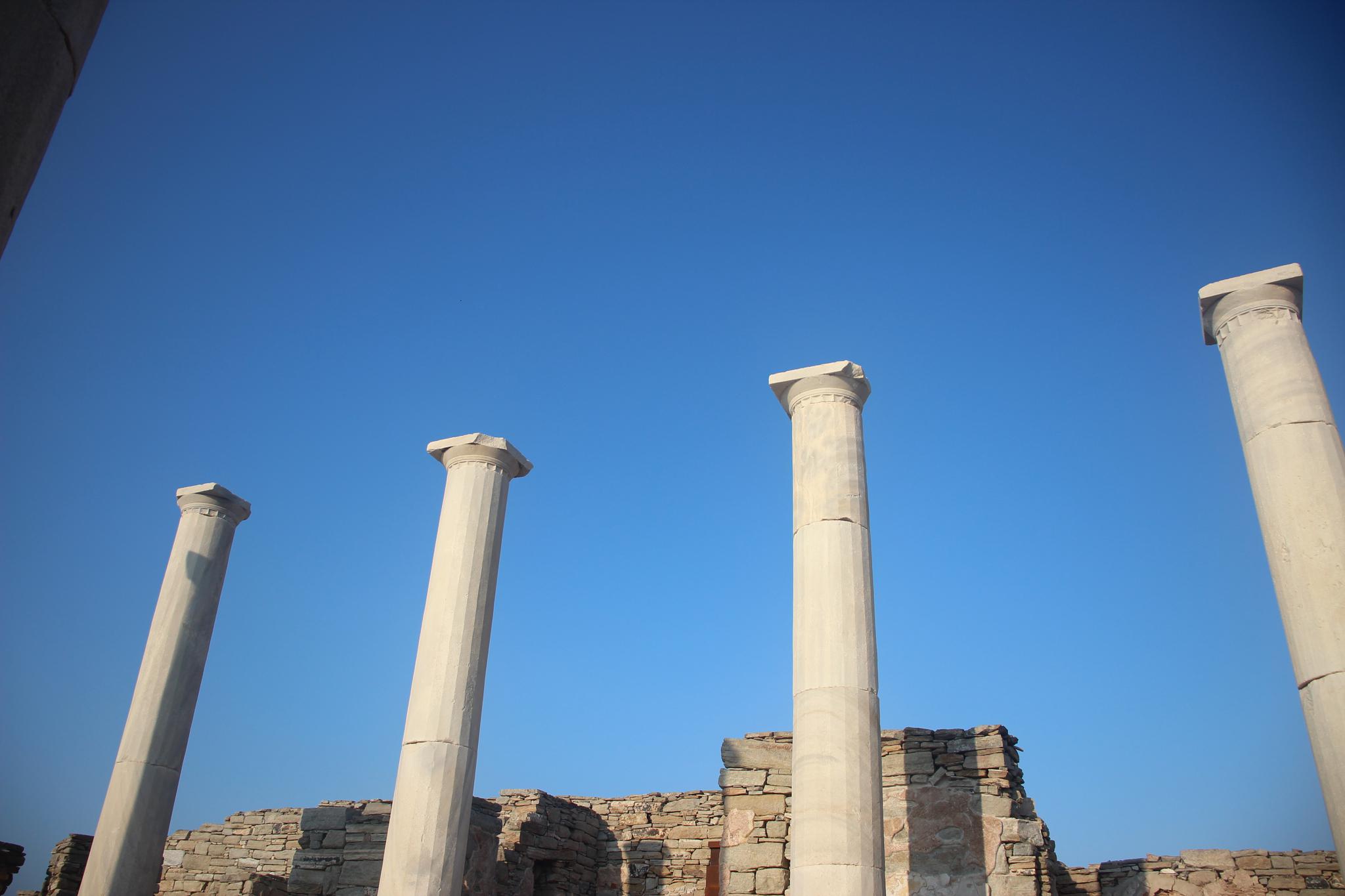 An unexpected bonus on our visit is the fact that we are visiting during a 'first' for Delos – with a temporary display of sculptures by renowned British artist Antony Gormley in an exhibition titled 'Sight'.
Gormley has placed 29 'body forms' throughout the island representing a collection of human-shaped iron sculptures. That explains the 'man' my daughter spotted on the ferry on our approach into the shores and surrounding rocks of Delos.
"Is that a real person on that rock?" she asks, and I have to fix my gaze carefully for a few moments, adjusting my focus from the brilliant blues of the Aegean sea before realising it's a sculpture.
The artworks are Gormley's way of re-populating the site and placing humanity back into this ancient world whilst, very importantly, not obstructing or in any way damaging the important grounds of the site.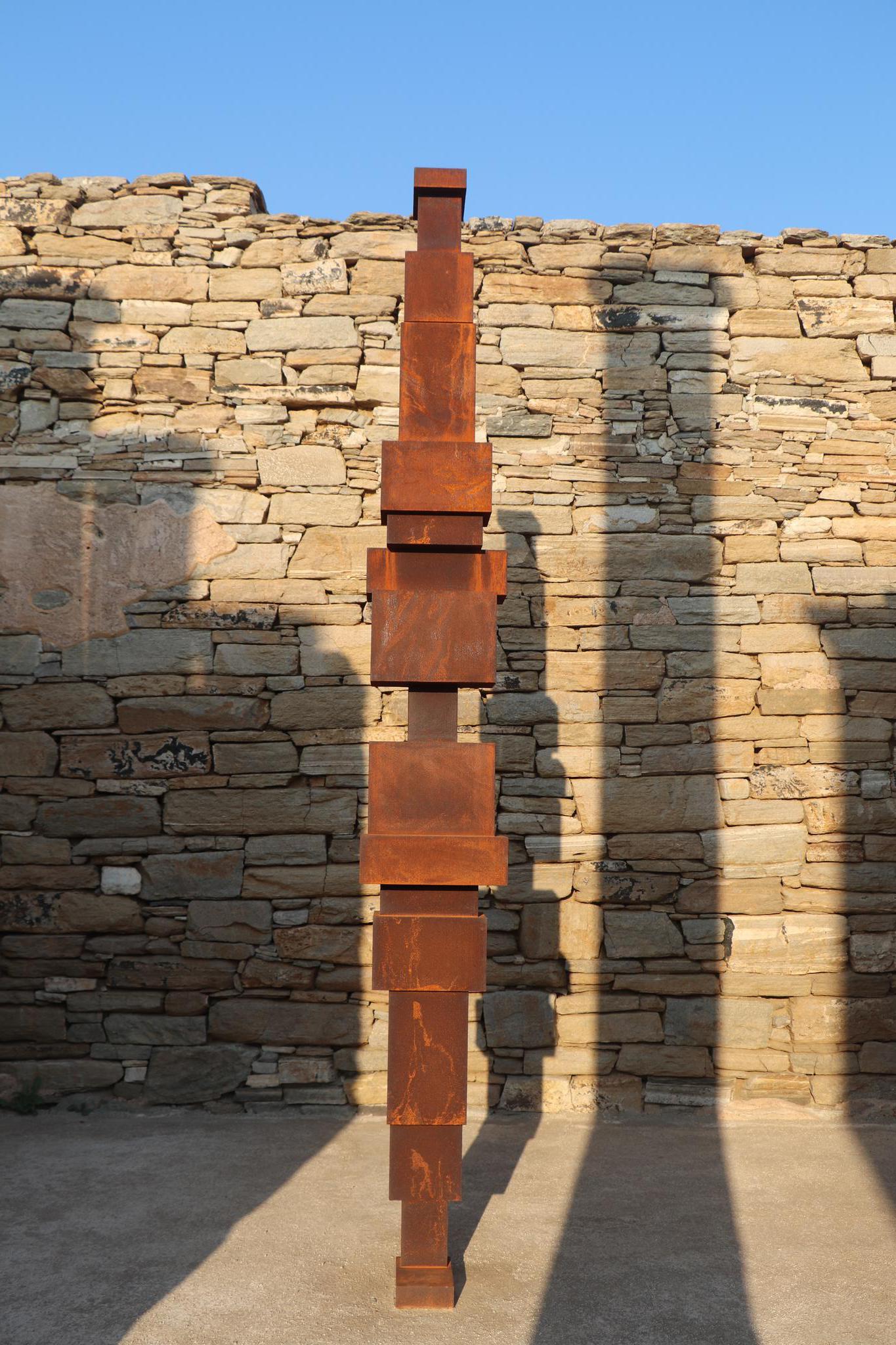 Following Amaryllis, we begin to wind our way up the paths, or rather, 'ancient streets' as she invites us to picture how these laneways would have once resembled the narrow, winding streets we've already explored back on Mykonos.
Columns remain standing in place. In certain rooms, bowls and large pottery vessels still stand. We pass what would have been a fishing shop, with a fish-monger table-top still in tact. We pass a perfectly square stone window frame and Amaryllis encourages us to feel the multiple holes on the ledge, wondering what once might have been there. As it turns out, we're standing at what was once a bank window, where iron bars once firmly stood in the circular grooves. It's the only window on Delos that remains undamaged.
We gradually incline up the network of 'streets' on Delos. Stray cats roam throughout, sunning themselves on granite blocks and ancient flooring.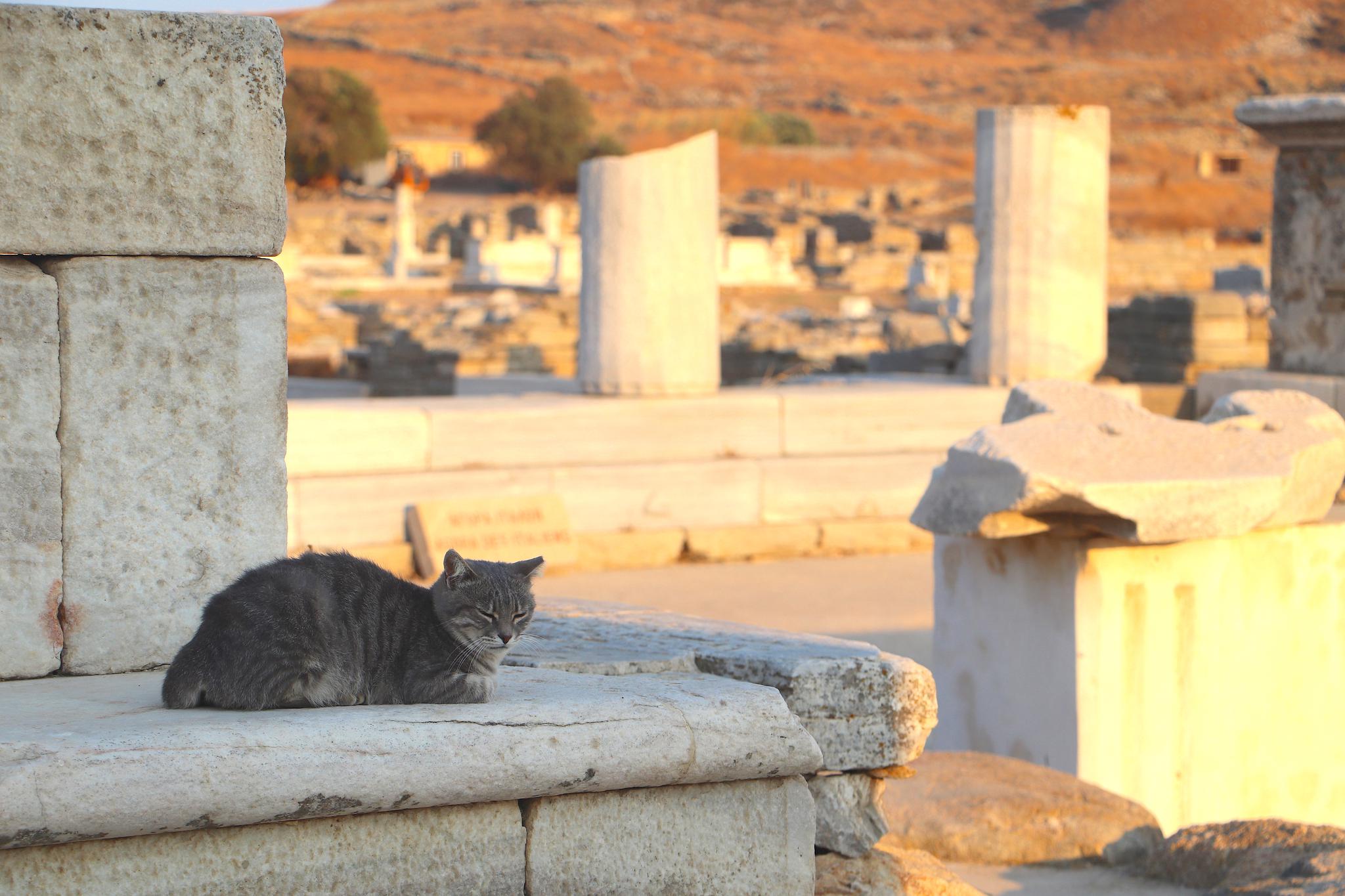 An archaeologist greets Amaryllis as he passes. She draws our attention to the city's clever guttering system running beneath the stairs in a downhill direction.
We view the largest piece of mosaic flooring that remains. In one of the worst 'tourist' practices that defies belief and never fails to astound me, Amaryllis explains that some visitors over time have literally peeled off and taken little pieces of the mosaic for themselves as souvenirs. My daughter sighs in despair even louder than me.
We also visit the remains of one of the largest and grandest homes on the island. By now, my daughter Juliette has taken out the Canon camera I have loaned her from its case and is busy snapping as she eagerly listens to what Amaryllis is telling us about the ways of life more than two millennia ago.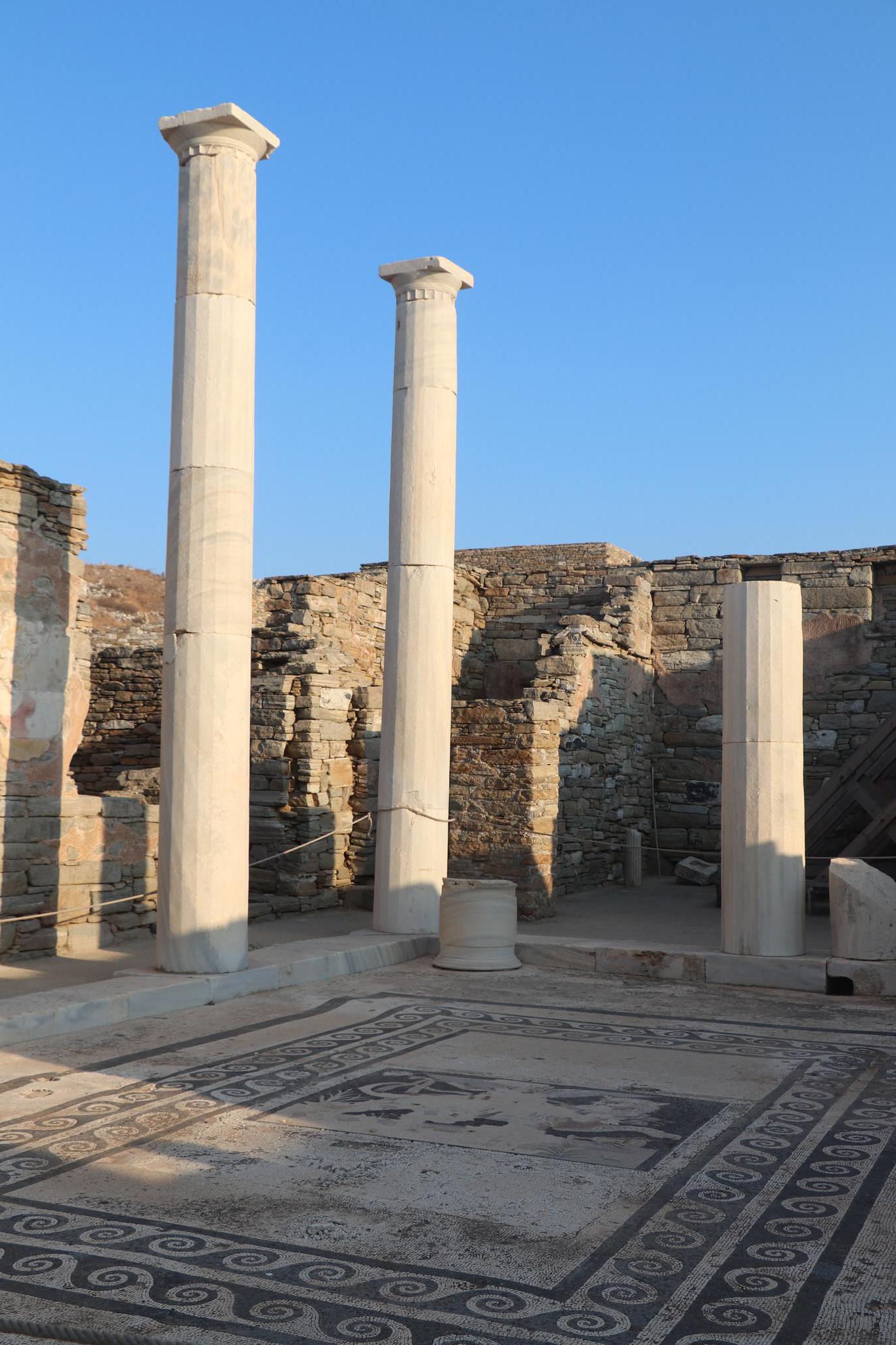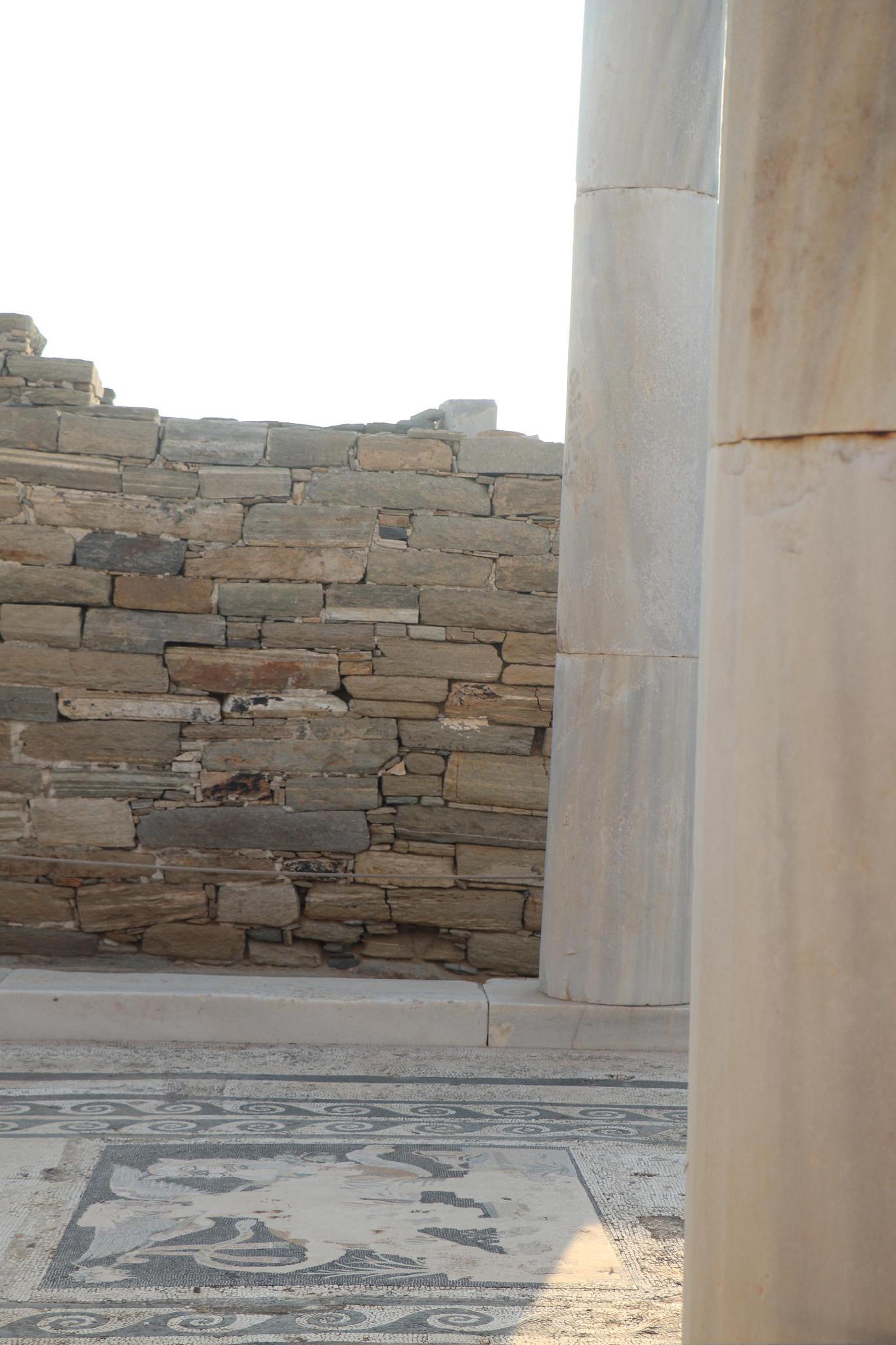 Juliette seems fascinated with the ancient toilet room, where apparently more than one member of the house could do their business in the communal ablution room.
"I have to show my class photos of this!" she squeals.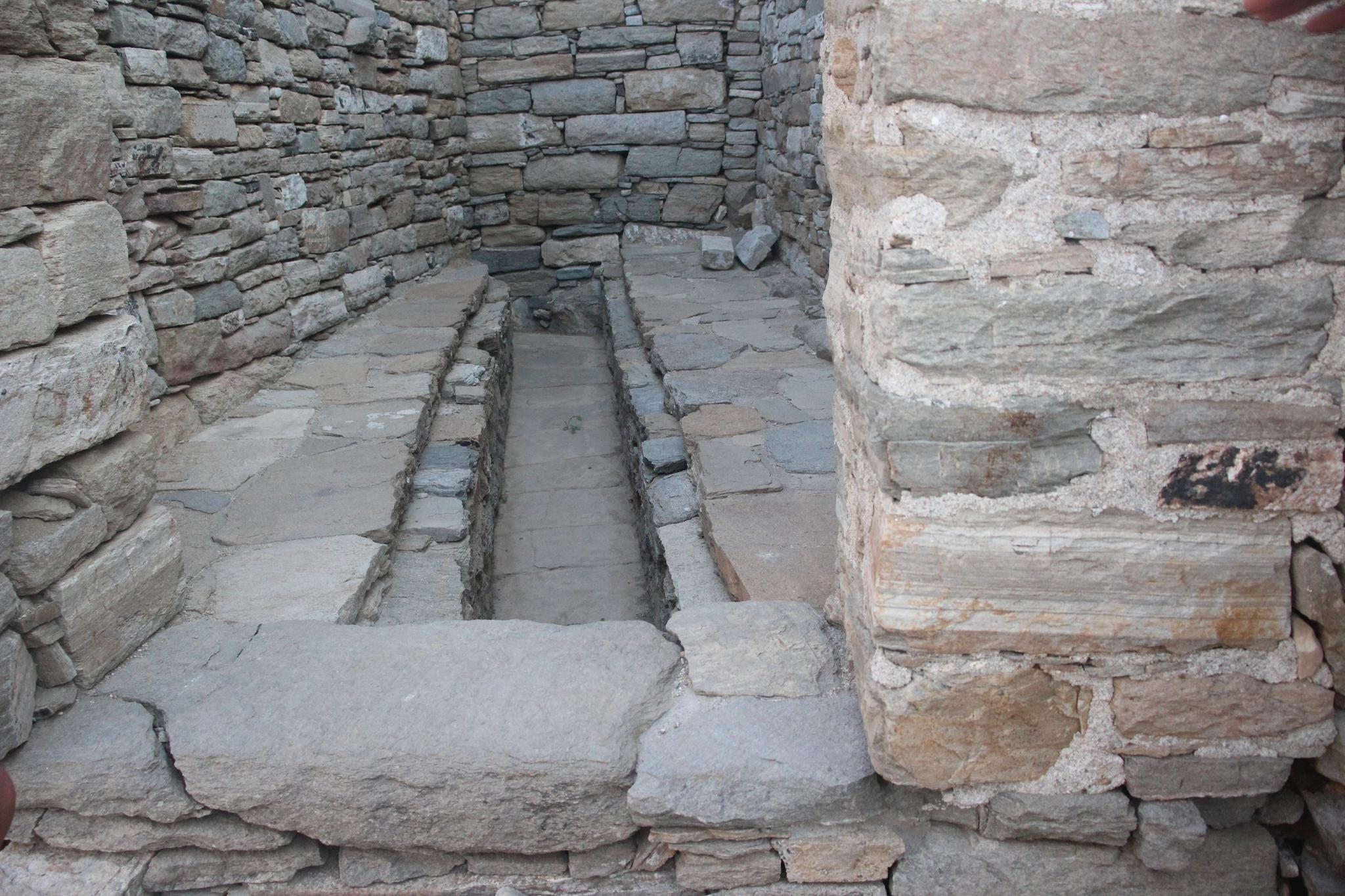 We venture to the grand colonnade where imposing temples and statues once stood. We see a statue base that held a nine-metre high marble sculpture of Apollo. Further up the hill, as the sun is lowering in the sky, Amaryllis asks us to turn back and she points out a large sculptural piece in the distance.
"Can you see that?" she asks.
She visually draws the outline for us in the sky to help us realise we are looking at part of the torso of Apollo's nine-metre statue and all that remains of that particular relic.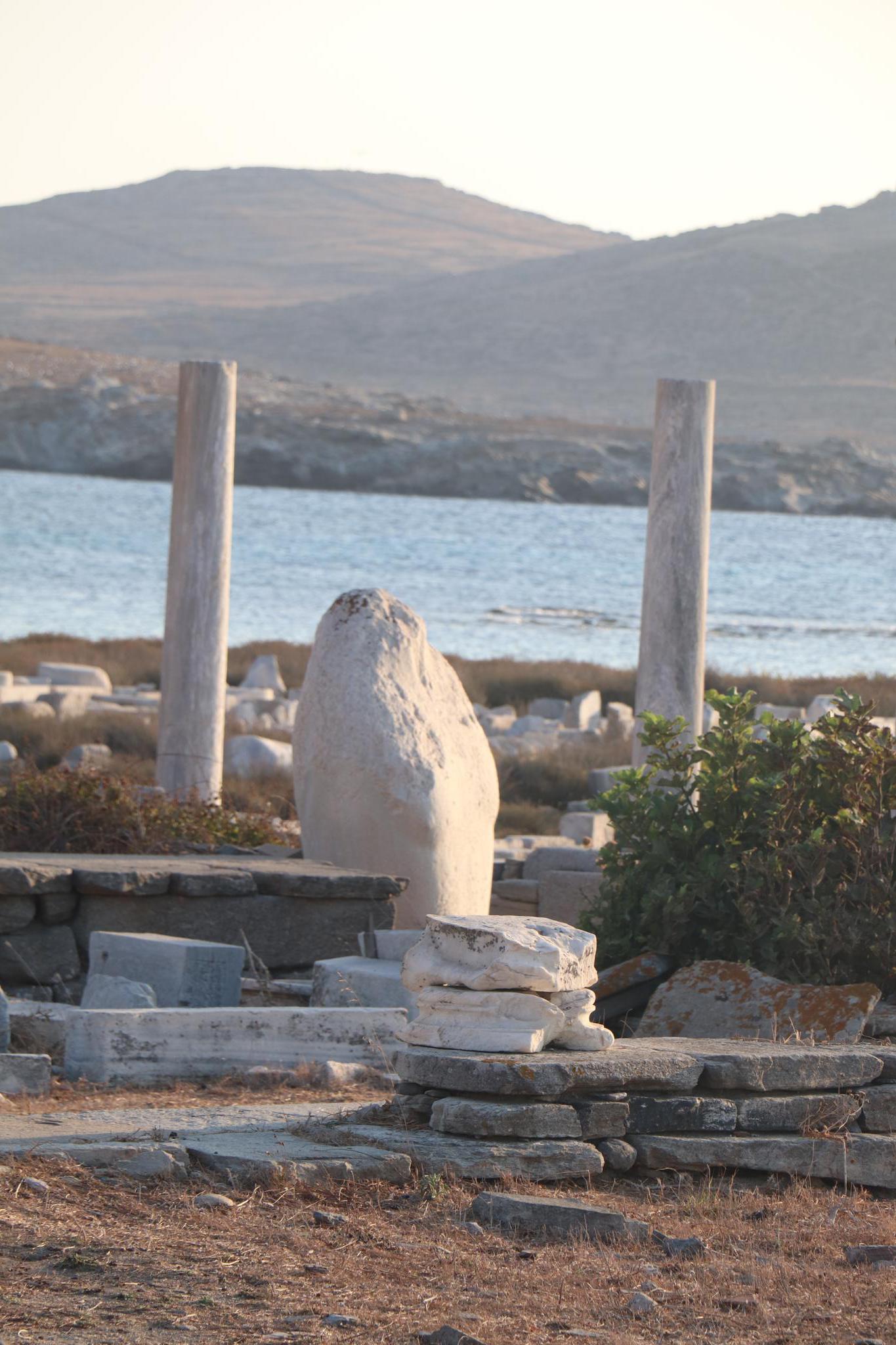 With every passing step, Juliette is becoming more hooked on history. Thankfully, Amaryllis is there to answer all her tough, probing questions such as 'How come all the attention is on Apollo and not his sister Artemis'? and 'Where do Adam and Eve come into all of this?'.
We visit the island's Delos Museum which houses in its modest building one of the most important collections of ancient Greek sculpture and an extensive collection of objects that relate to life in the Hellenistic period (7th to the 1st Century BC). One room houses the original Naxian Lions found on the site, made at the end of the 7th Century BC. The museum was constructed in 1904 by the Archaeological Society of Athens. It's a simple and straightforward space which only adds to its charm. More ginger cats are roaming about at the entrance and alongside an exterior wall where pieces of ancient columns have been lined up and positioned against the museum's exterior wall.
The afternoon light is flowing through the open doors and illuminating the works within. In one room, one of Gormley's statues lies face down in the centre of the room, surrounded by the classical Greek sculptures.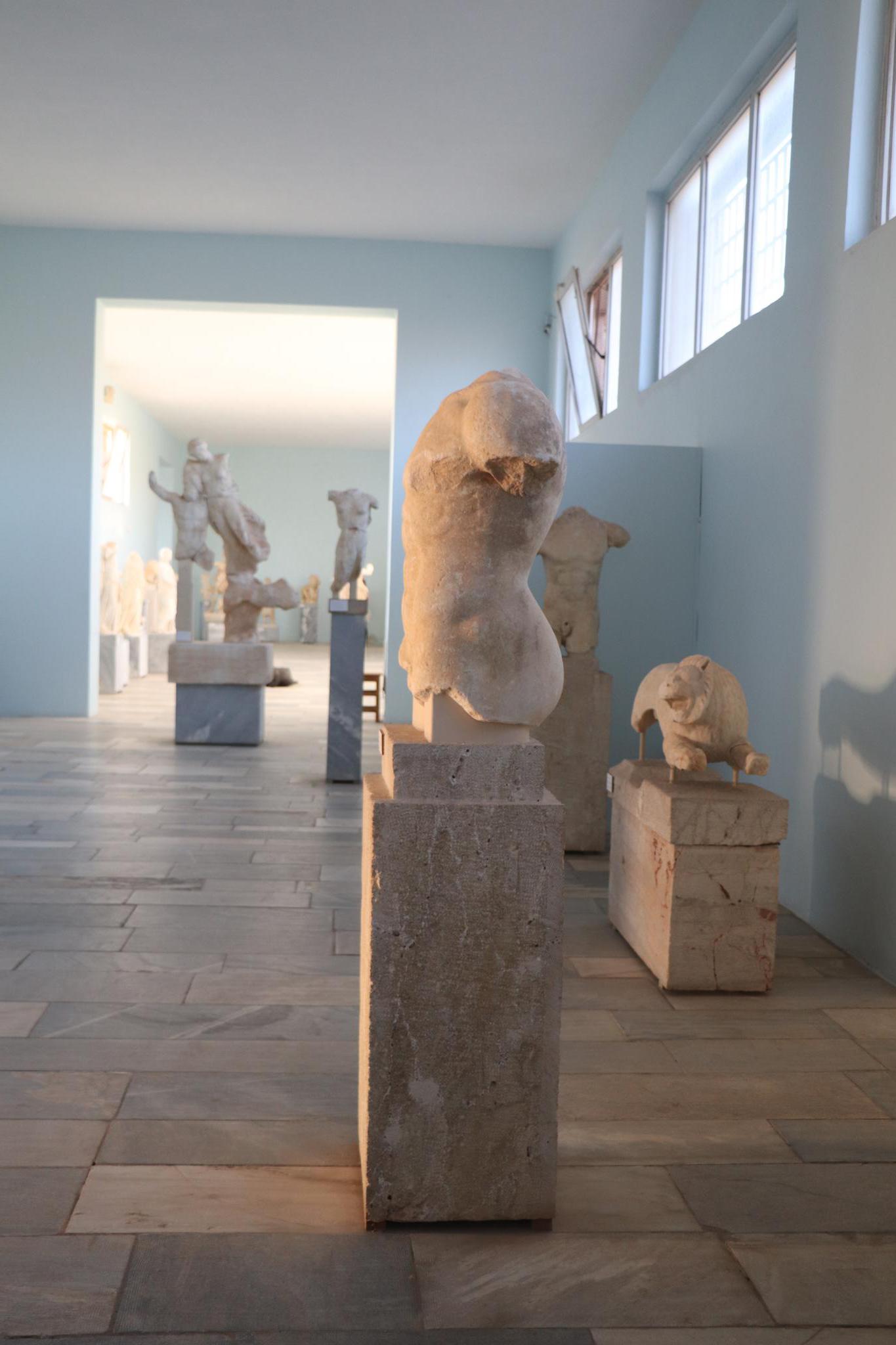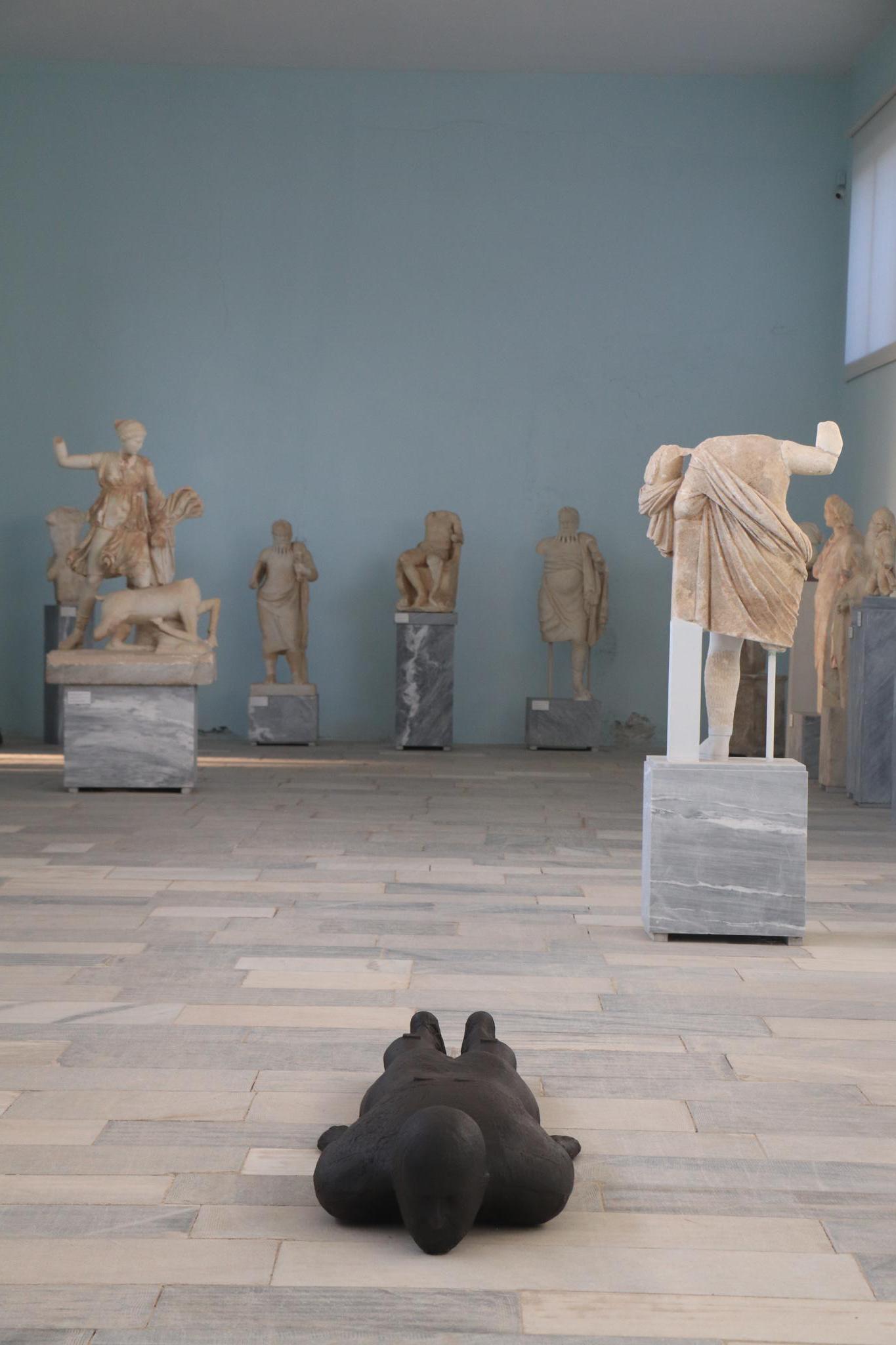 My favourite experience of our tour comes when Amaryllis leads us to the theatre. First, we view the ingenious water tank system that still stands beneath the stage.
We sit on the theatre's front-row seats, where people sat more than 2000 years ago to be entertained. A Gormley artwork is positioned in the centre of the amphitheatre.
The Greeks, we learn, never actually acted out death or extreme violence on stage in any of their plays. It was deemed offensive and could provoke or encourage acts of violence amongst an audience made up of mixed levels of class and education.
"Don't get me wrong," said Amaryllis, "on the battlefield they could be brutal. But in the theatre, life was respected and references to death would only take place off-stage."
And so, the origins of the word 'obscene' become perfectly clear now that she illustrates it for us – 'ob' being the Latin word referring to 'against'; and the Greek word 'skene' was a building behind the main stage and acting area.
We sit on the theatre seats with the Aegean waters in the distance. Amaryllis ask us to soak it in and to recognise exactly how far the shops, nightlife and Wi-Fi of Mykonos now feels, and the distractions of modern living.
Together, we all reflect in the amphitheatre in silence – seemingly worlds apart from the lifestyle and mythological beliefs of the classical Greek actors who once performed here, and the audience-members of the BC age that cheered on.
I glance at Juliette who has sat nervously on the seats, apprehensive as if her 10-year old frame will somehow collapse stone benches that have stood for thousands of years. She is startled when a cat appears out of nowhere, its tail brushing past her back.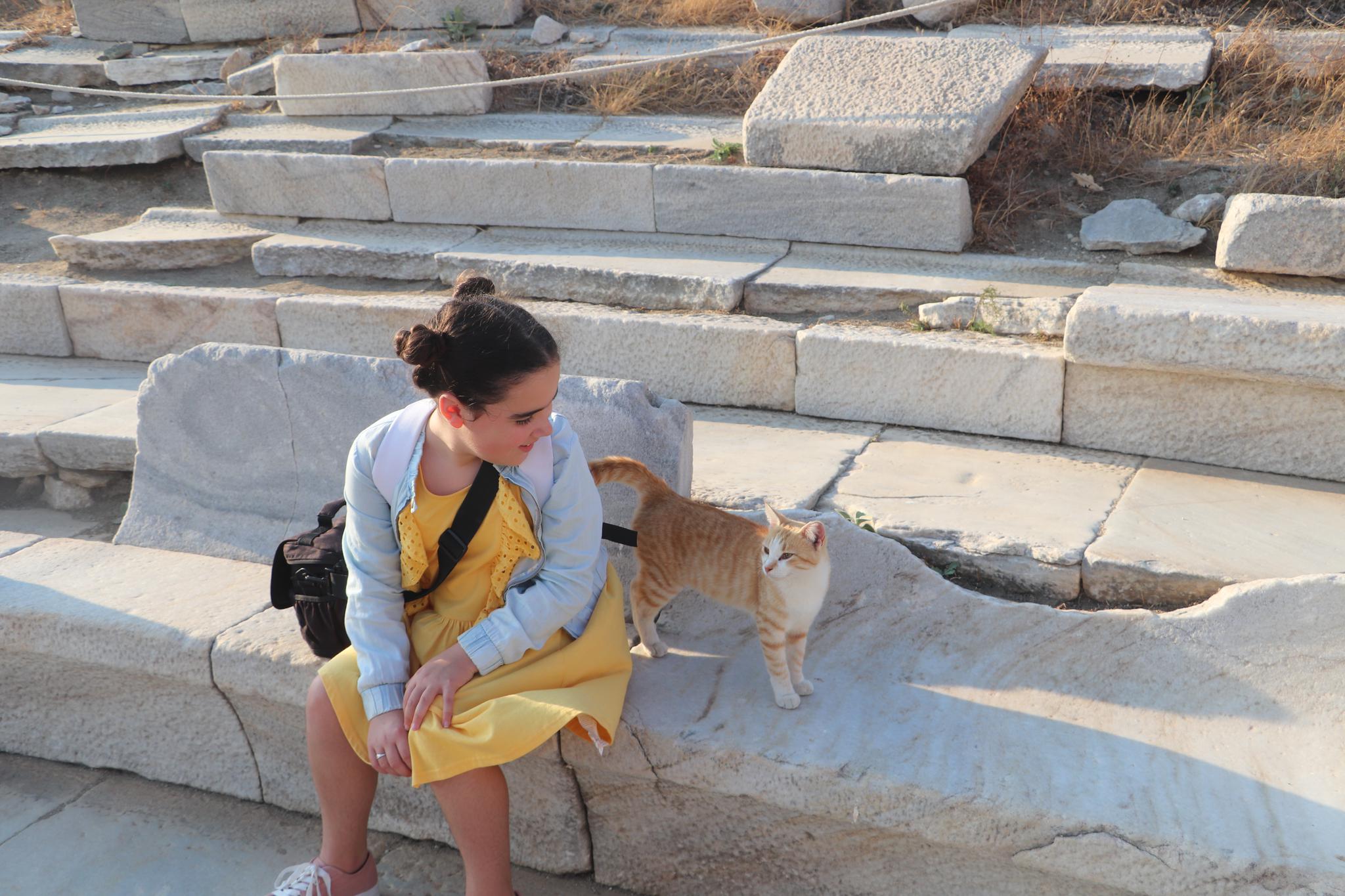 I step away from our group slightly and stand in the one position, rotating my view around the amphitheatre, gazing at the stage, the rising rows of broken pews and upwards at the sky as birds hover overhead.
My eyes fill with tears of emotion, gratitude and poignancy as I think of my late father, a mad-keen history buff. I feel him there with us, watching a granddaughter he never met.
In that moment, as the fading afternoon light casts shadows from Gormley's iron-person sculpture, the humanity of civilisations past and present is all that matters.
READ MORE
Head to Visit Greece for more information on Delos island. 

The Sight exhibition by Antony Gormley will be on display on Delos island until 31 October, 2019. 
My visit to Delos island was courtesy of Myconian Villas Collection, one of nine family-owned luxury properties within the Myconian Collection portfolio, all positioned on Mykonos island, Greek Islands.