Mindfulness while visiting Angkor Wat
Travel has the power to transform. It's the unplanned moments and the people you meet which end up leaving an imprint on your mind and heart.
On a work trip to Cambodia earlier this year, I found myself with a spare day in Siem Reap due to flight connections before leaving for the capital Phnom Penh the following day. Siem Reap is the gateway to the World Heritage-listed UNESCO site of temples at the Angkor Archaeological Park.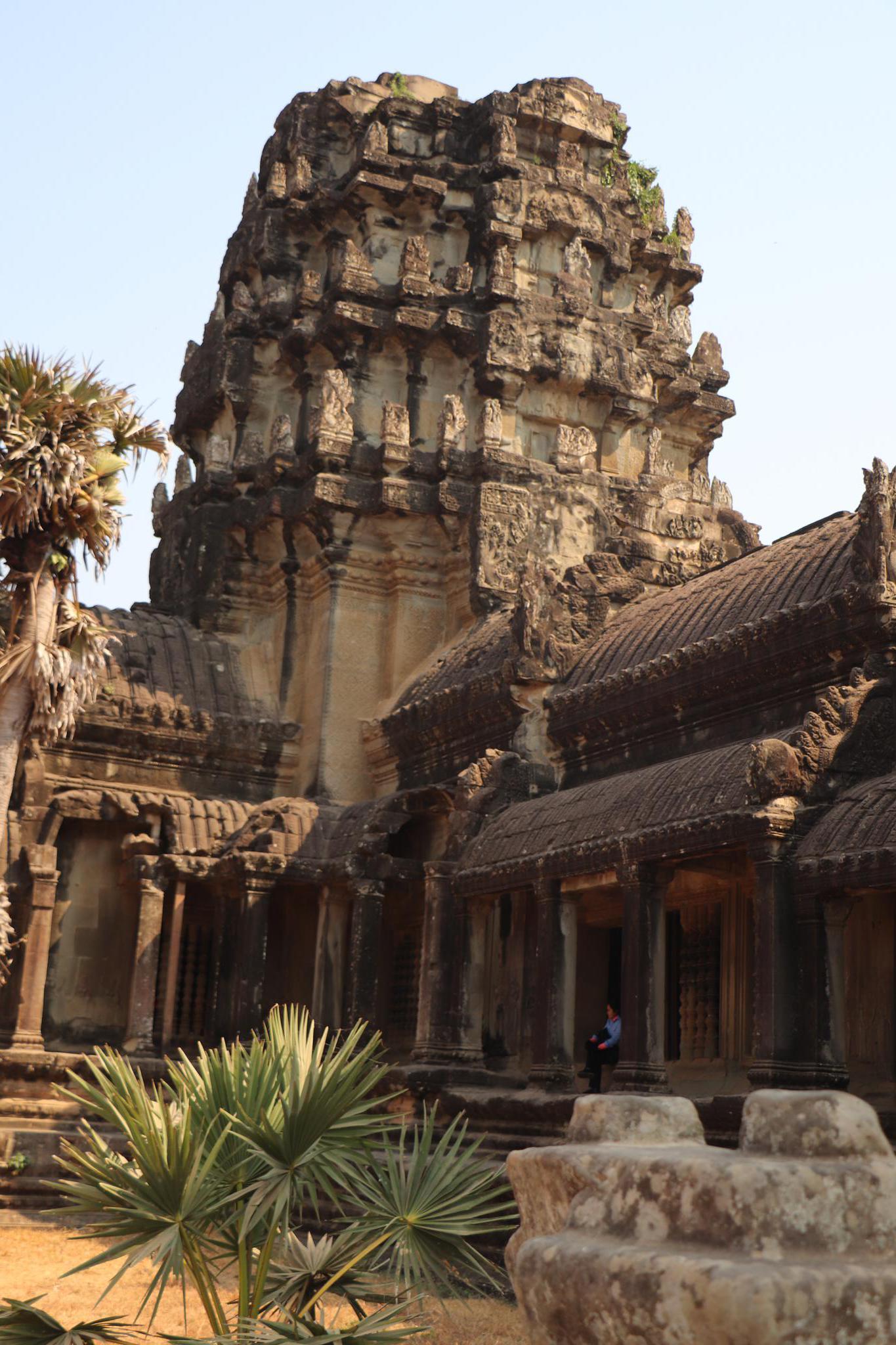 Through the hotel where I was staying, Treeline Urban Resort, I had arranged for a guide to take me out to visit the ancient site.
The humidity was already thick in the air when I was greeted in the lobby by my guide, Toma and our driver. I soon learned what an extraordinary and kind man Toma is.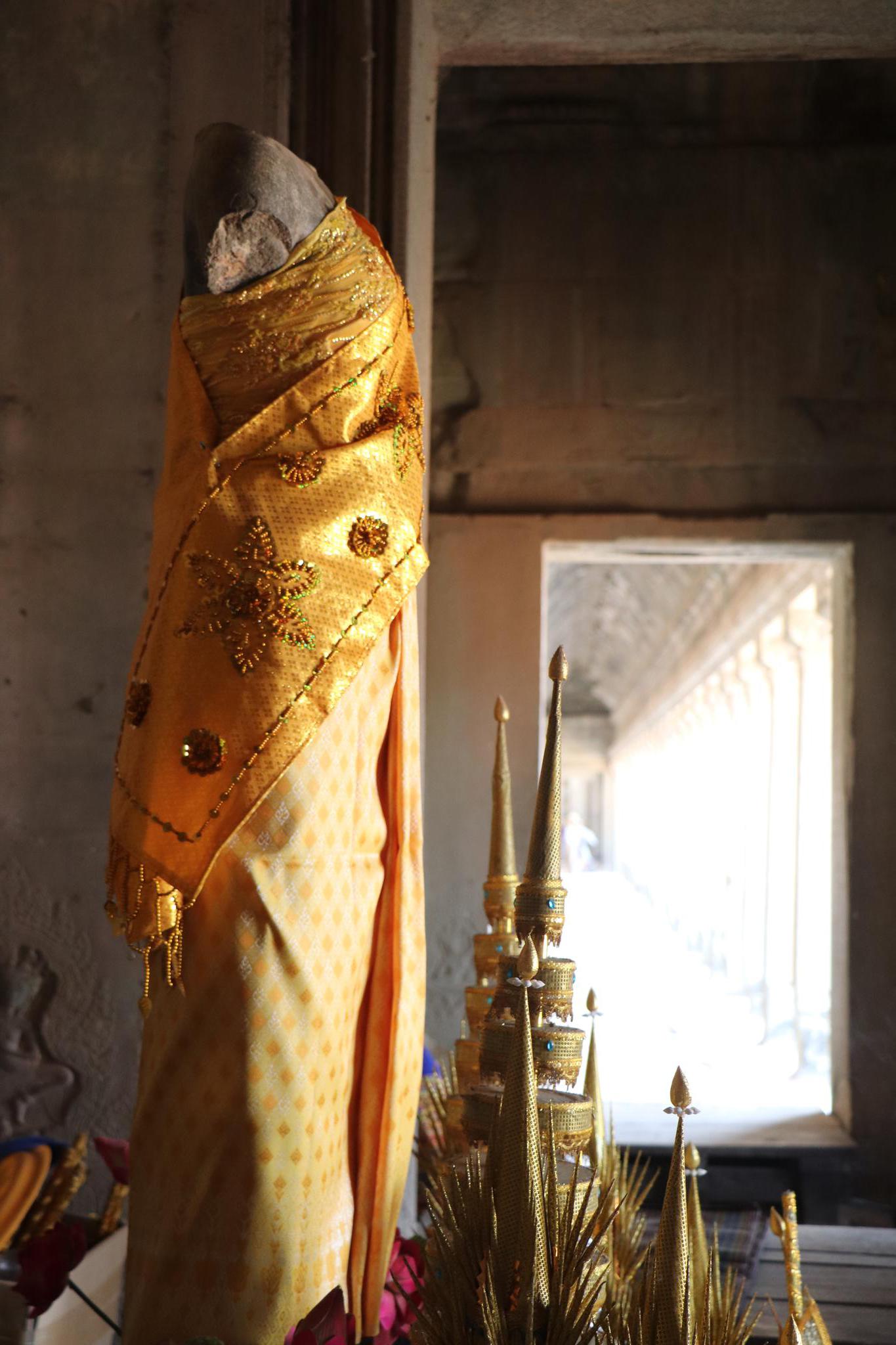 We began with a run-down of the day's itinerary and the process for stopping first at the tourism office where all visitors to Angkor's archaeological sites must first pay for a one-day pass (US$37) to gain access to all 72 of its temples.
Toma was incredibly knowledgeable about Cambodia and its complex past. I could already feel the history-geek within me get excited about the day's discoveries that awaited, despite this being my second visit to Angkor Wat.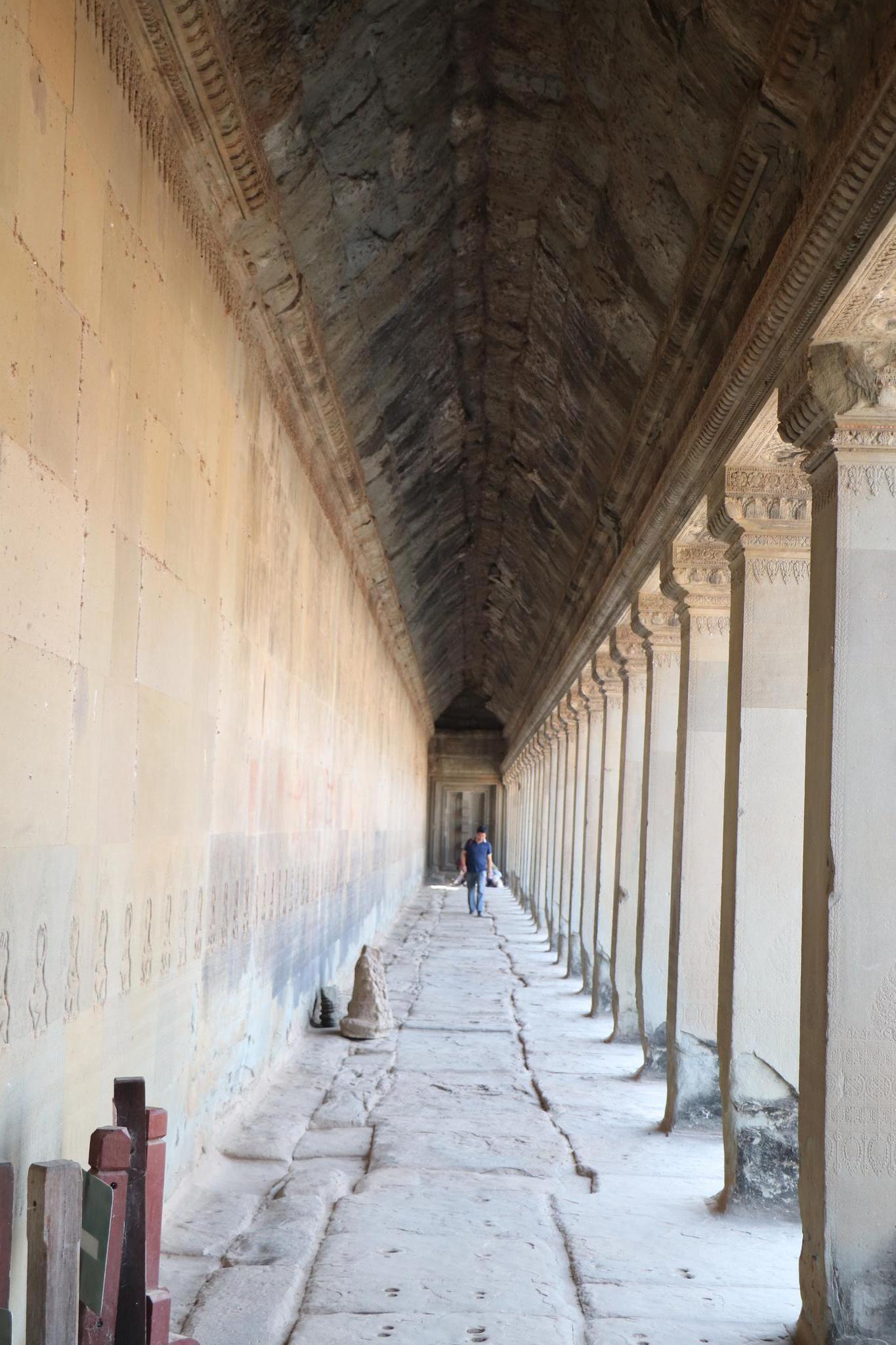 We began to chat about our families, sharing our Iphone screens to show each other photos of our children.
As we entered the gate, Toma's pace picked up and he casually mentioned that he was also a part-time professional, part-time hobbyist photographer. Already having spotted my new Canon camera, I think he was looking forward to the tour just as much as I was.
Inside the temple complex, he knew all the exact optimum spots to stand to get the best photographic angles. We sat at first, sweat running down my legs, as he began to explain the formation of the buildings built between 900 and 1200 AD.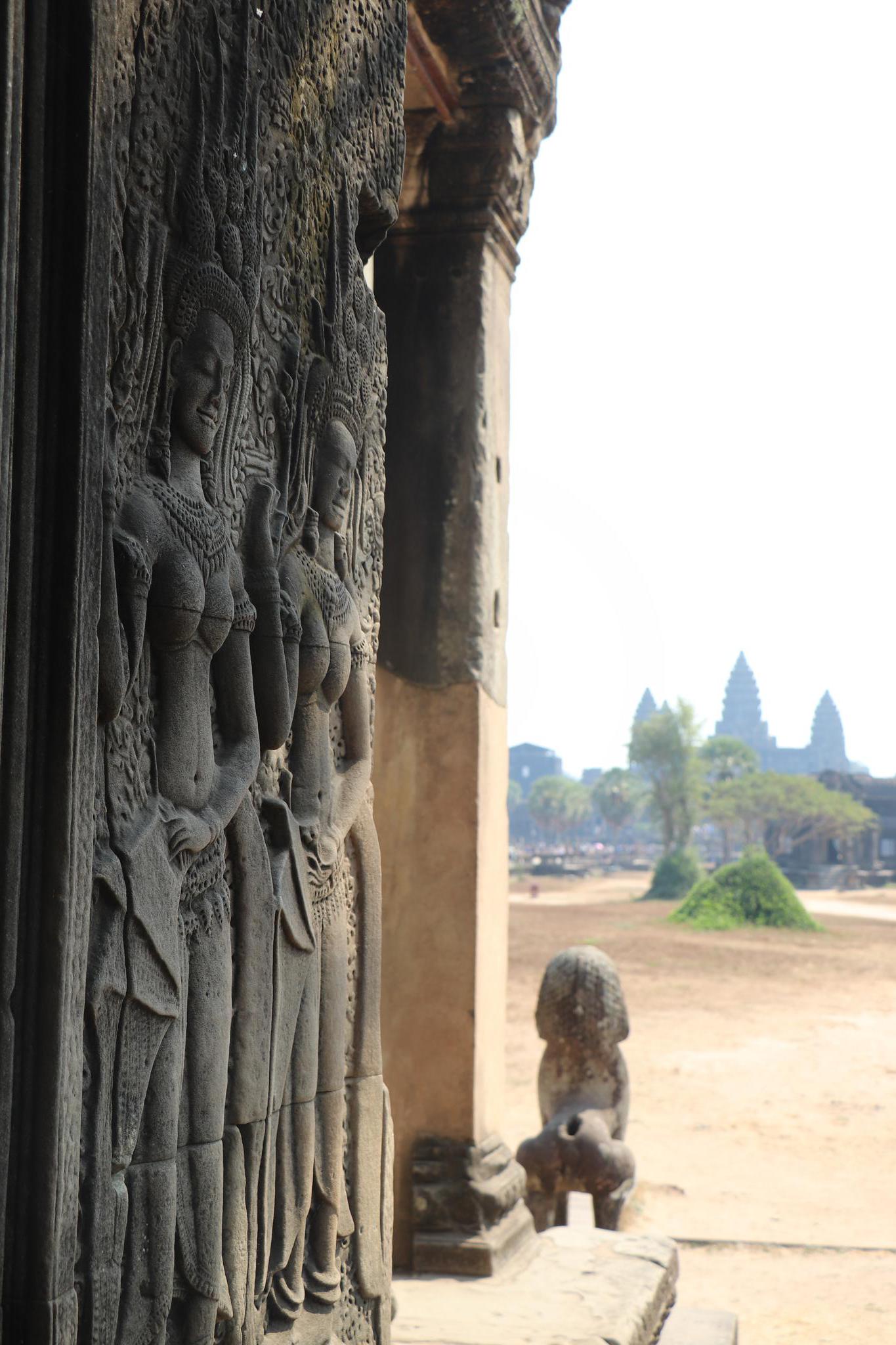 He asked for my camera. I sat in the shade while he started snapping. "Be careful," I said in a mothering tone as he leaned backwards in what appeared to be an impossible arch of the human spine. But he just laughed – he'd clearly done this before.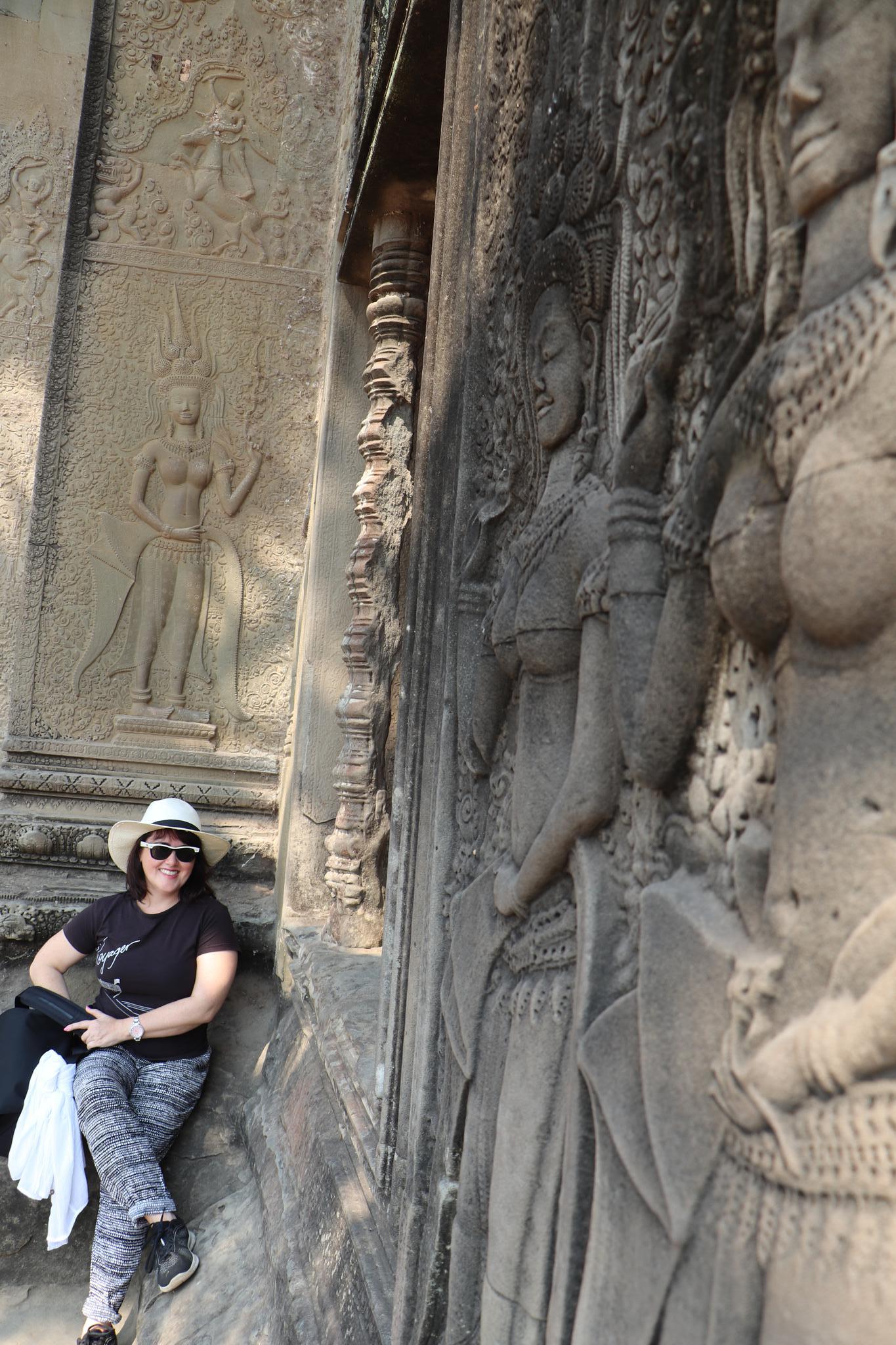 We moved throughout the various structures. It was hard to fathom the amount of rubbish, some even left within the buildings when there were bins provided only metres away.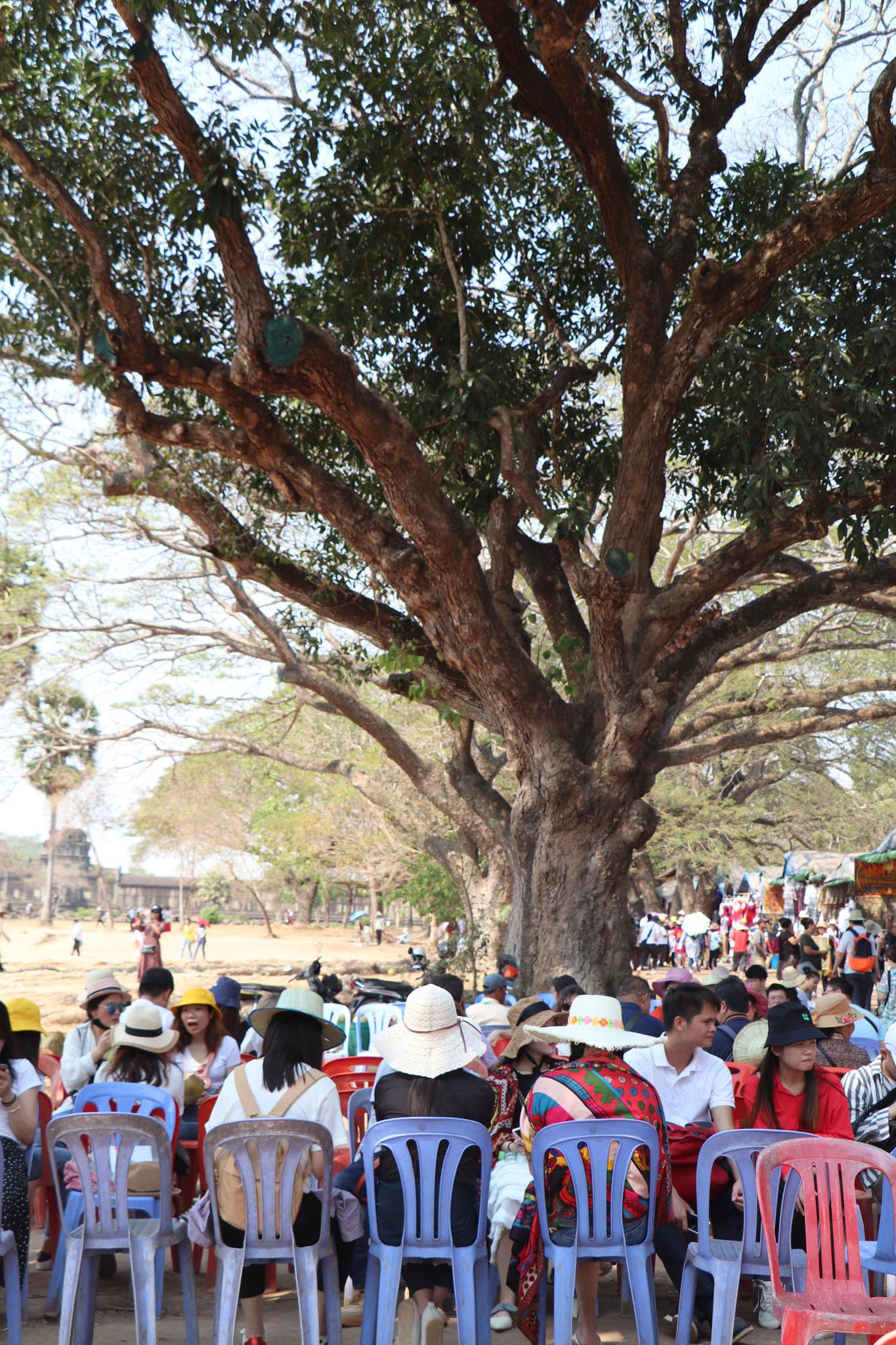 "What's wrong with people?", I moaned, unable to grasp what persuades a tourist to think it's okay to leave their empty takeaway containers strewn across the flooring of a UNESCO protected building. With 8,000 visitors a day and very little patrols by guards, I reconciled that unfortunately not everyone does the right thing – this is an inevitable truth of travel.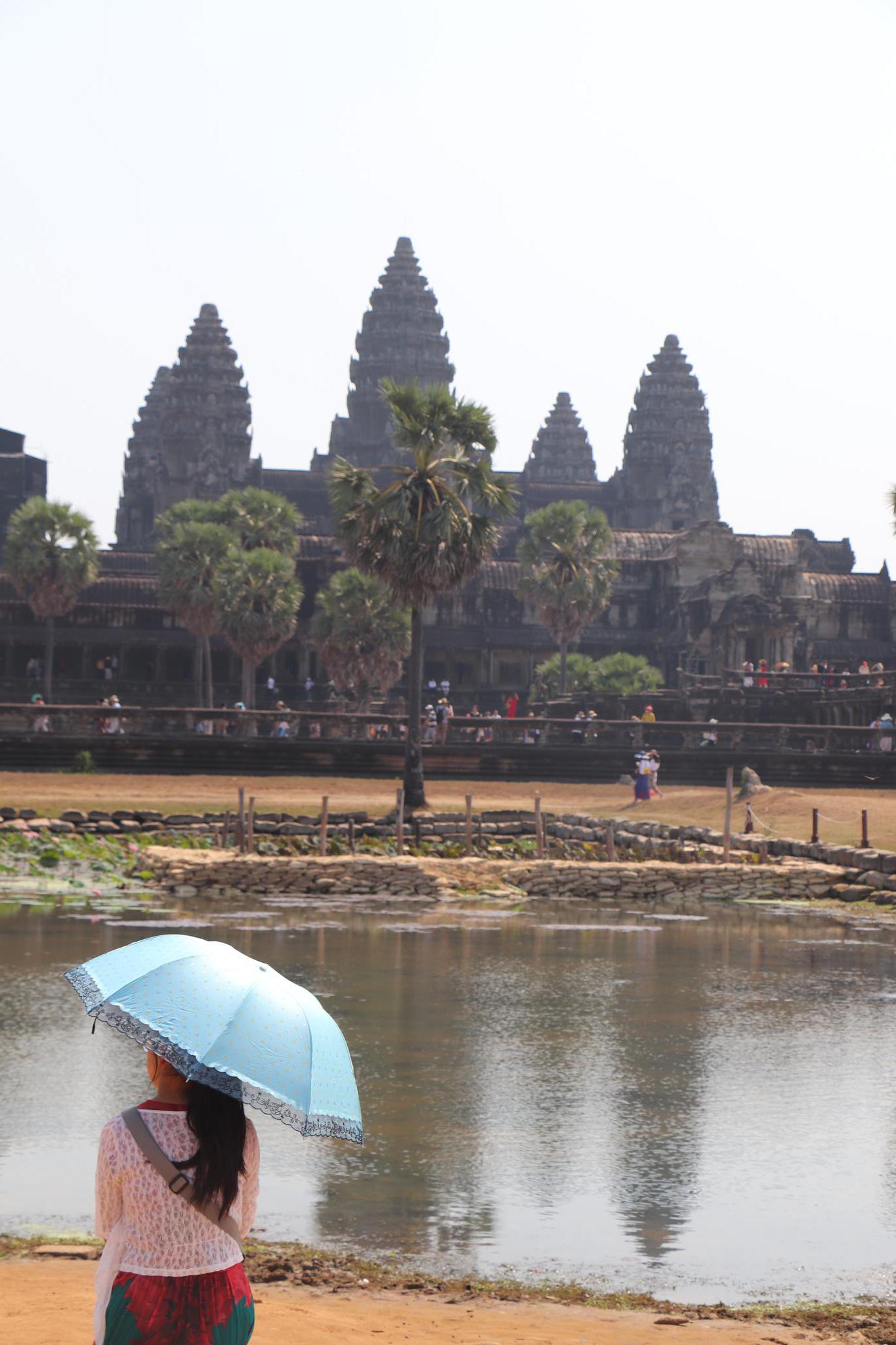 Even though Toma had been here literally thousands of times, it was as if he was seeing it anew, appreciating its beauty as we moved deeper within its stone walls. As we traversed through its passageways, passing relief carvings, statues of Buddha and offerings, we talked for hours about history, our countries, religion etc. In his pure, mindful Buddhist way he would sometimes simply say "happy" – which was both a statement and a question. He was living in the moment.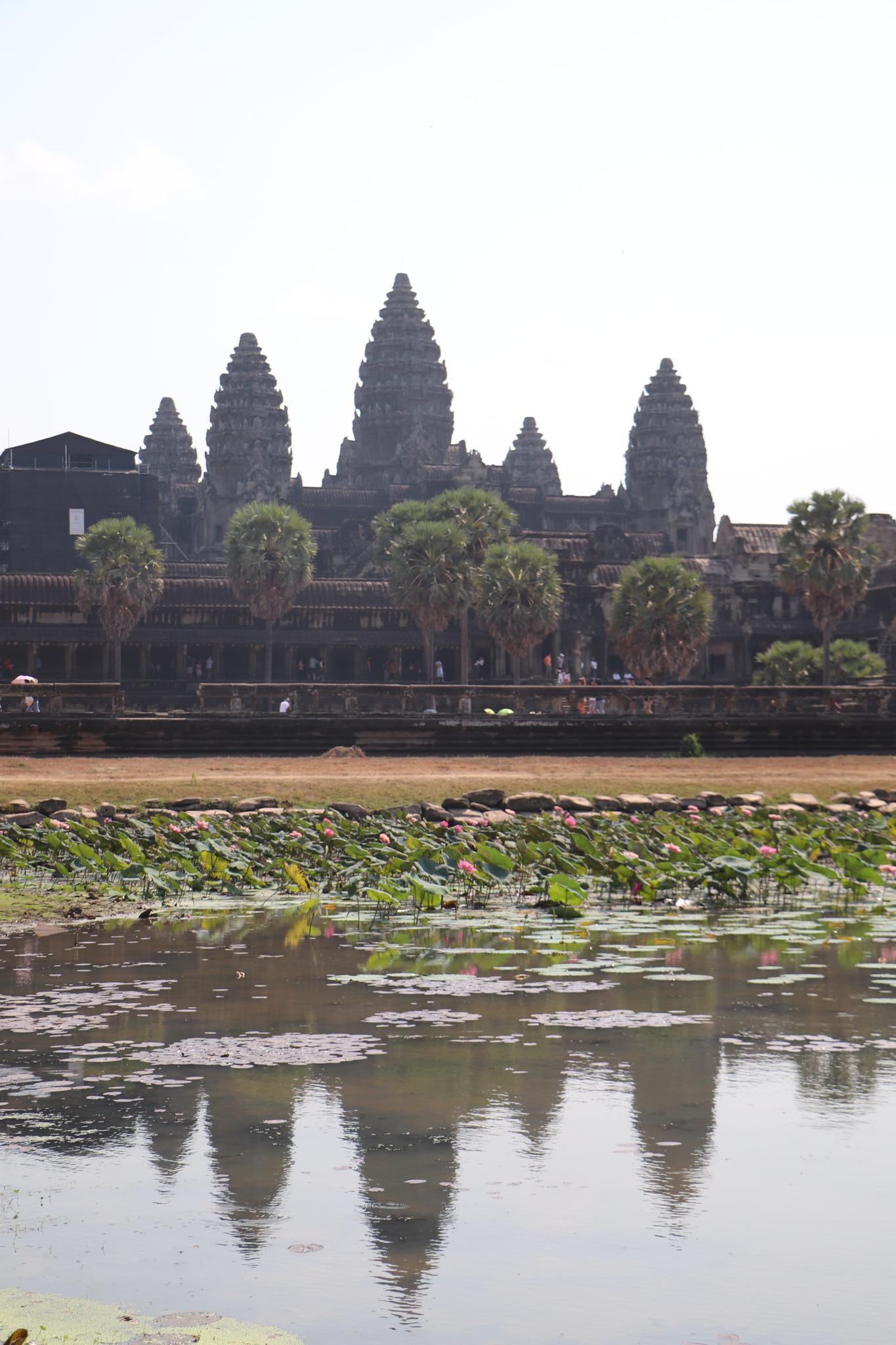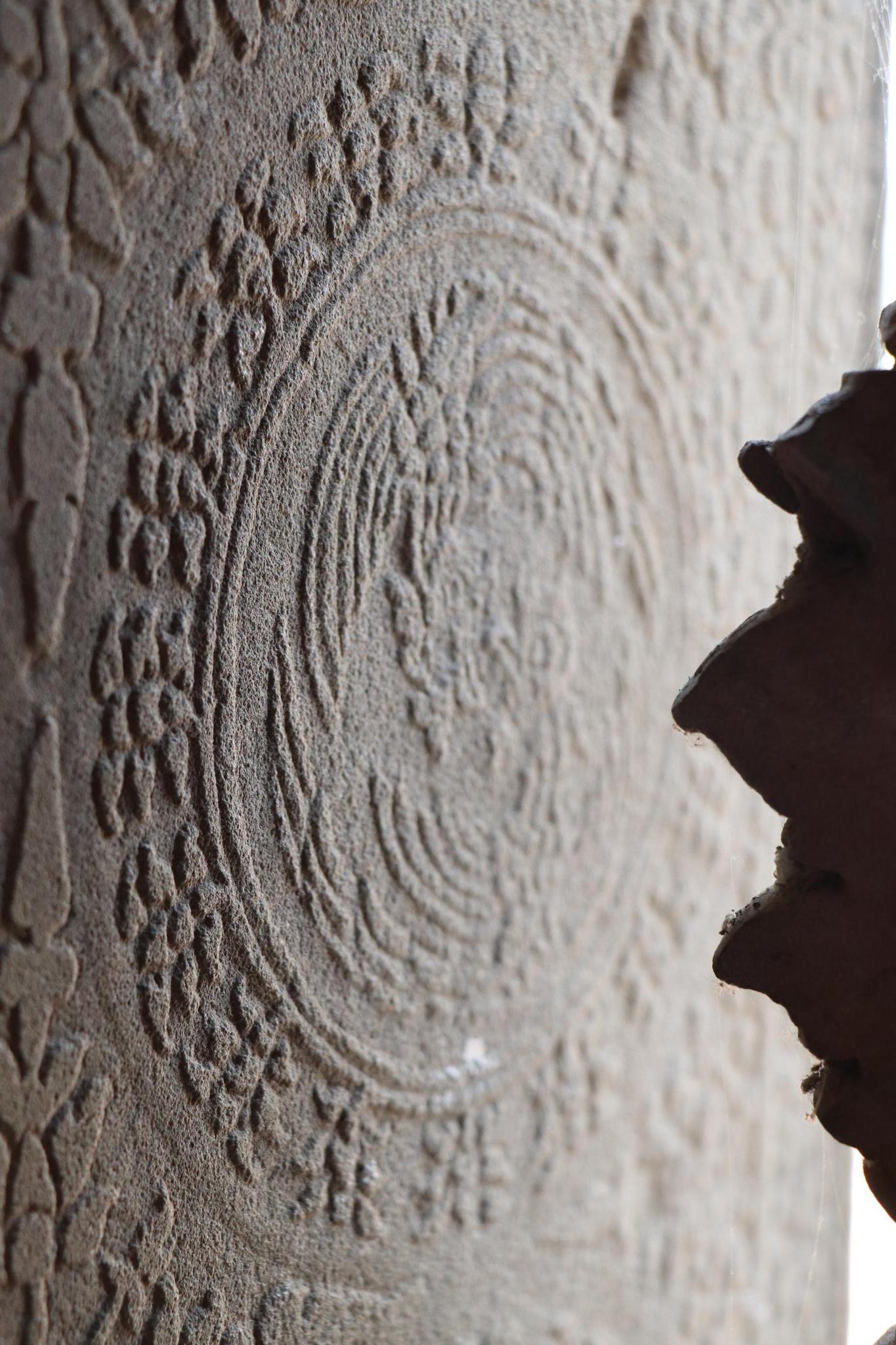 Every so often, he would ask for my camera again to take the perfect shot. "Isn't it beautiful?" he asked as he'd point out the details of carvings or the deep (but now dry) swimming holes in which he'd swum as a child. He would also offer to take a photo of me at some of the key vantage points, but I was happier when he was, camera in hand, just snapping randomly – his love of Cambodia, his county and its people, driving what he saw through the lens.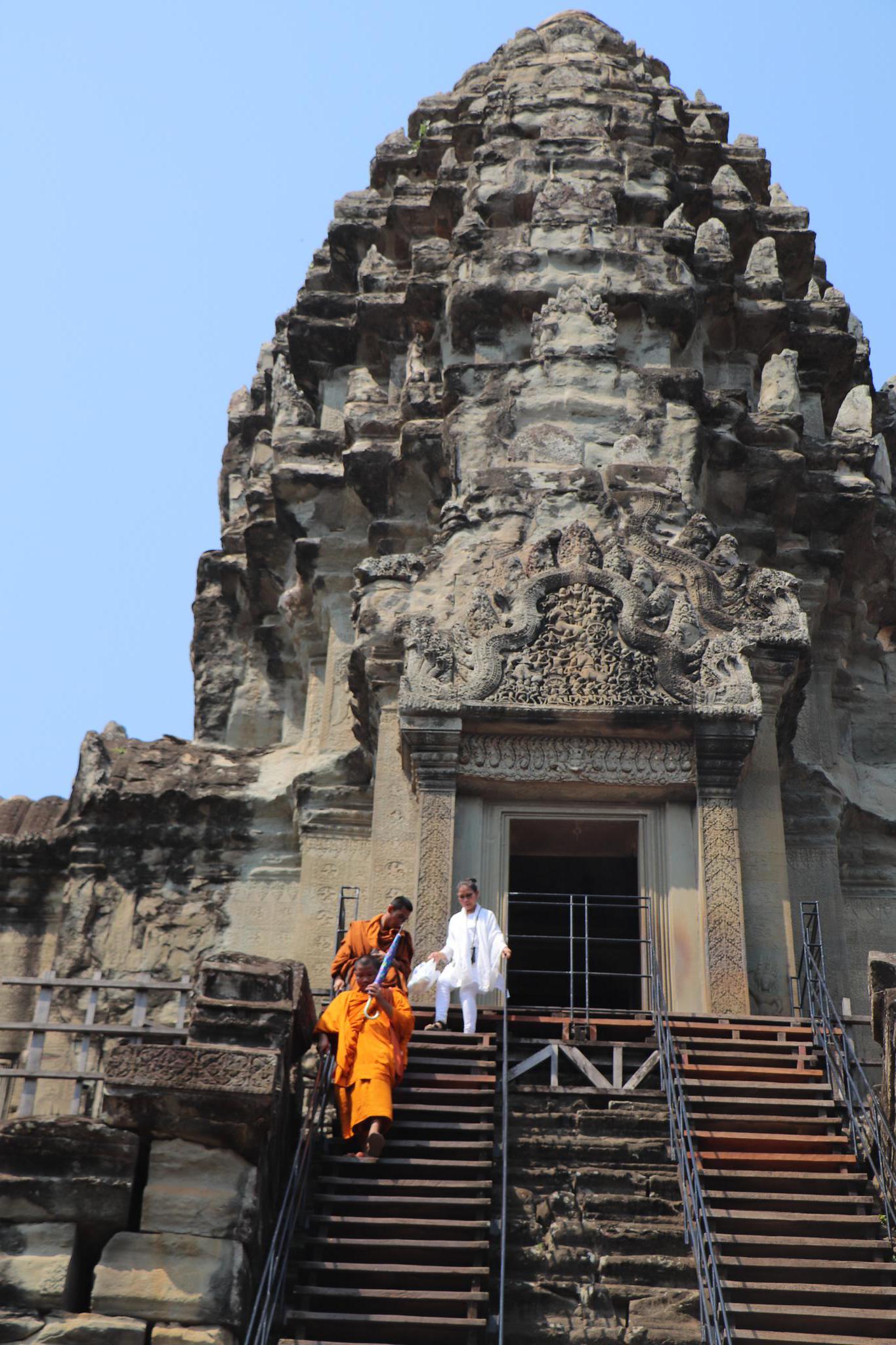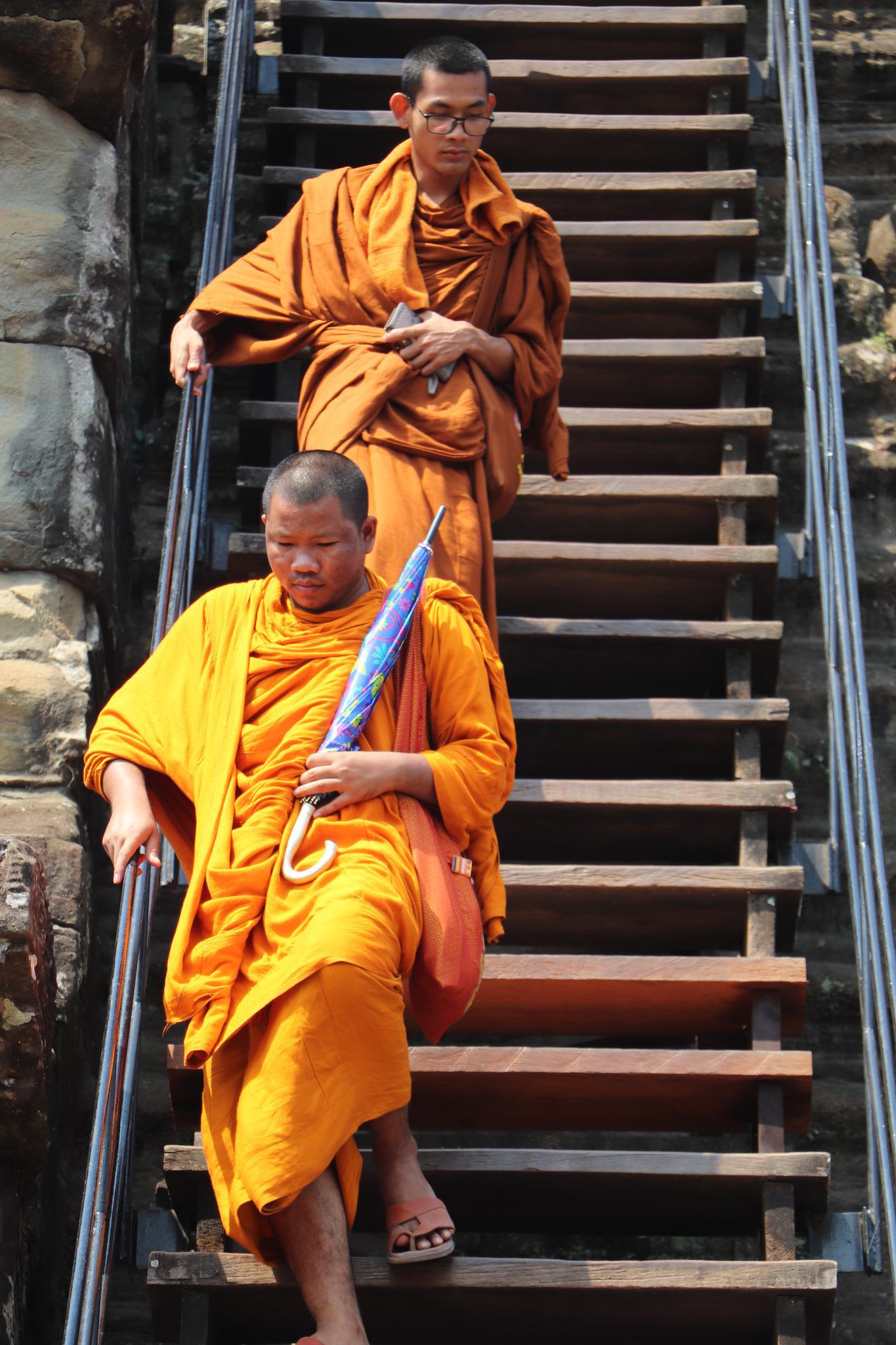 Throughout our conversations, I discovered that Toma was once a monk and could speak five languages. He had worked as a chef in Dubai for 10 years. Like thousands of Cambodians, his family was devastated by the Khmer Rouge. As we moved through Angkor Wat temple, he pointed out the bullet holes that had ripped into the religious walls. At the tender age of six, his father was killed in the genocide. He spoke more softly as he recalled the memories of that harrowing time, vivid in his mind as if it had been only yesterday. He remembered carrying his father's body, caged in a metal box, through the streets with his siblings. His mother was taken to a prison camp and he would never see her again. In his village, children would have to step over dead bodies to take water from the river where corpses floated, or watch as crocodiles ate the deceased. It was a contrast to contemplate the trauma of that experience on a six-year-old boy, with the warm and gentle man who was now proudly sharing his love of Cambodia with me.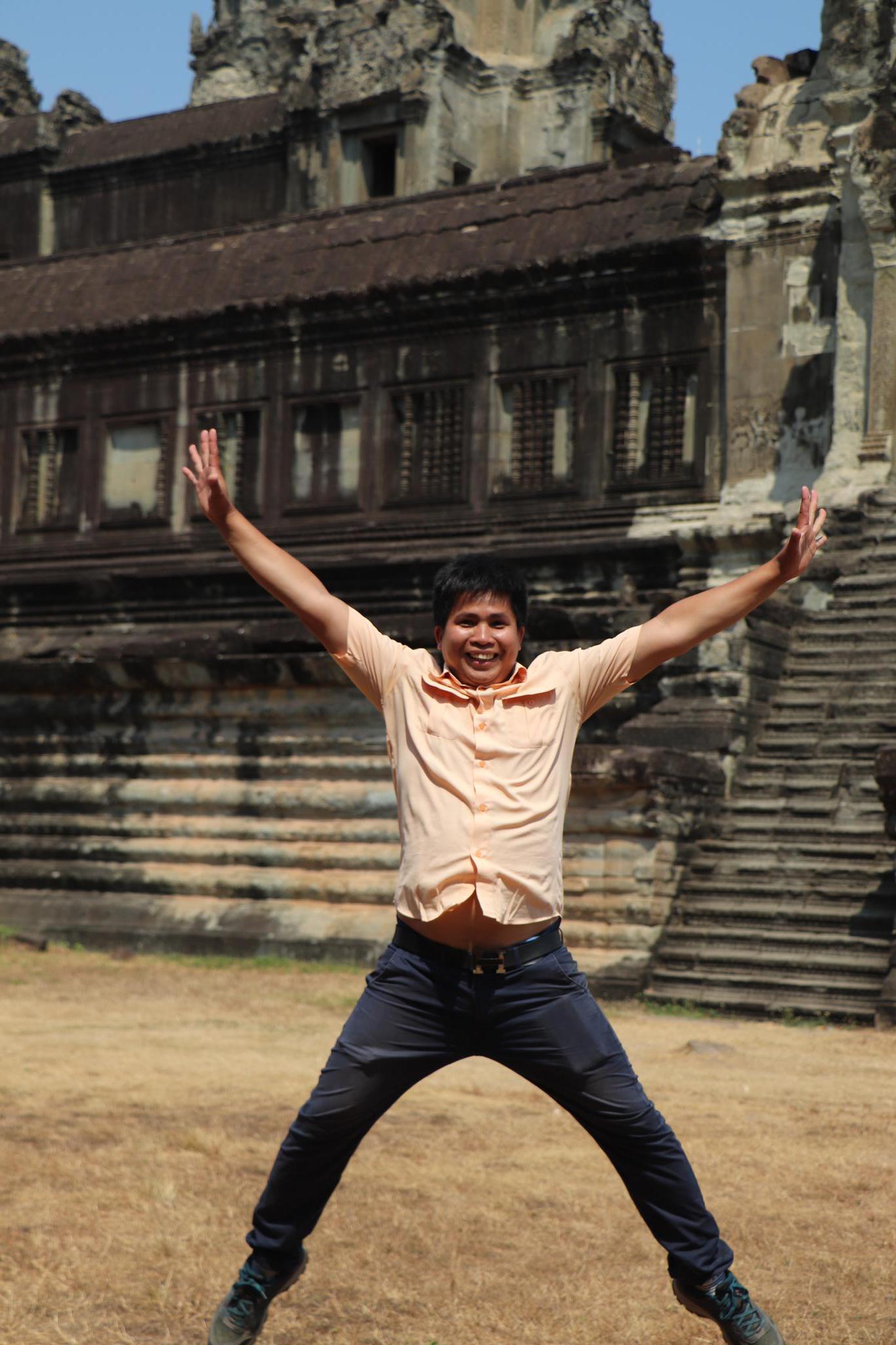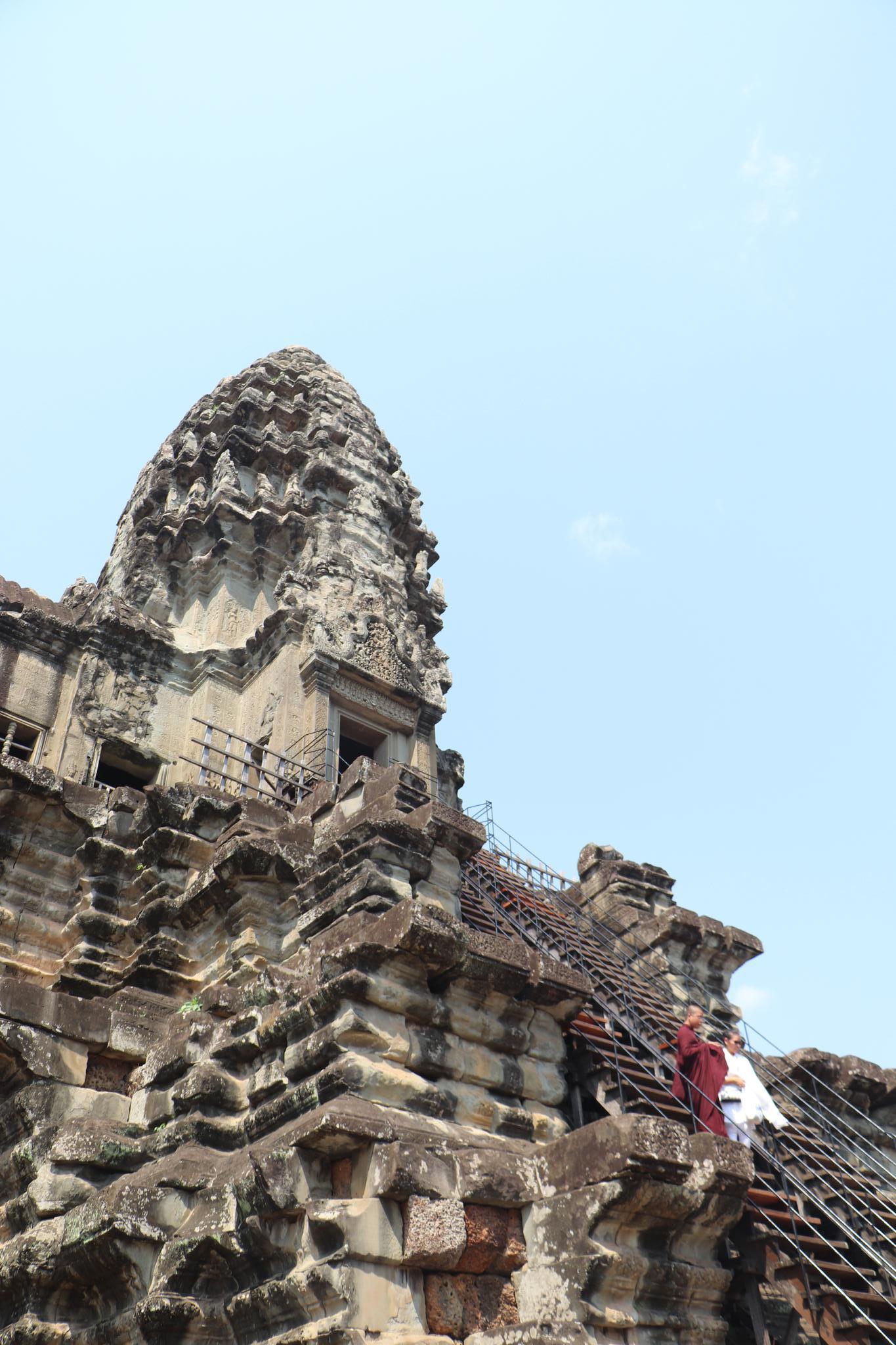 Toma is married now with two beautiful boys. I asked him why he was no longer a monk. "Because I wanted to do more learning, my goal is to speak 10 languages." He spends any spare money he has on travel. He dreams of owning a better Canon camera. An American photographer on his tour once offered him his second-hand camera – but he had been patiently waiting three years for it to show up.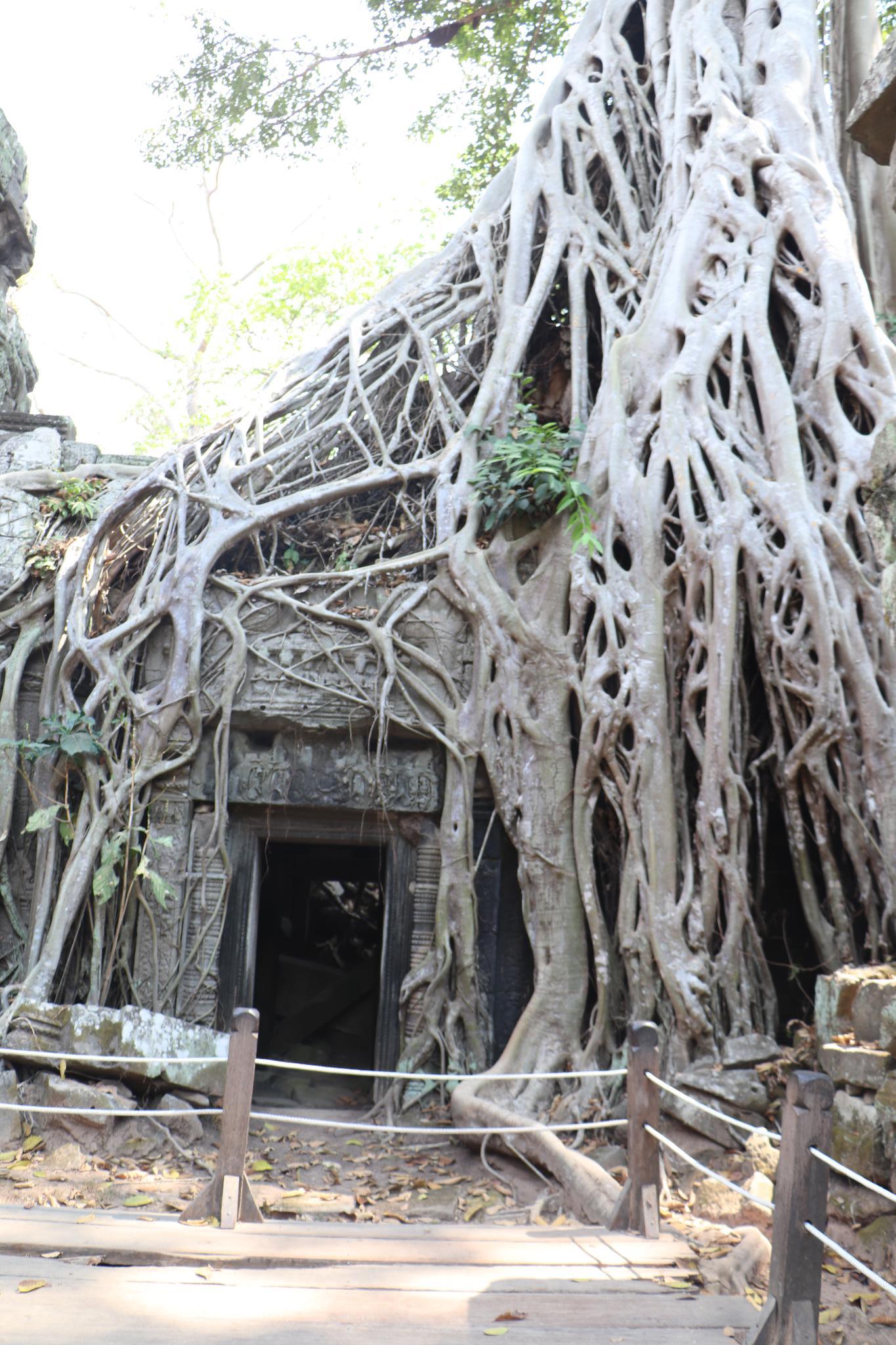 The day's heat was settling in as we drove from Angkor Wat to Angkor Thom, and then on to Ta Phrom, over-run with spectacular tree roots. Here, there was a couple who had just married having their wedding photos taken. Toma sought permission to take a photo of them on their special day – they happily obliged.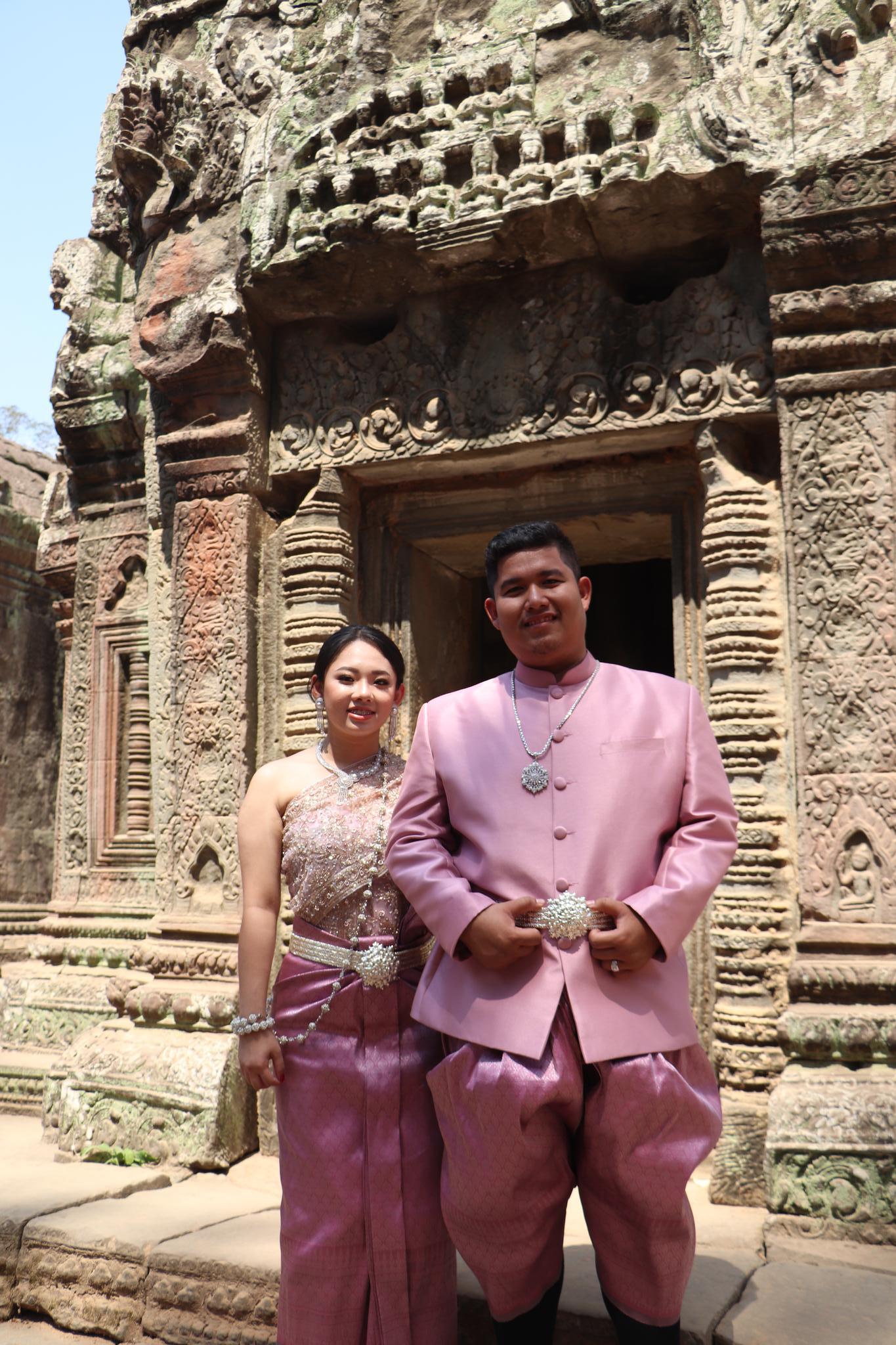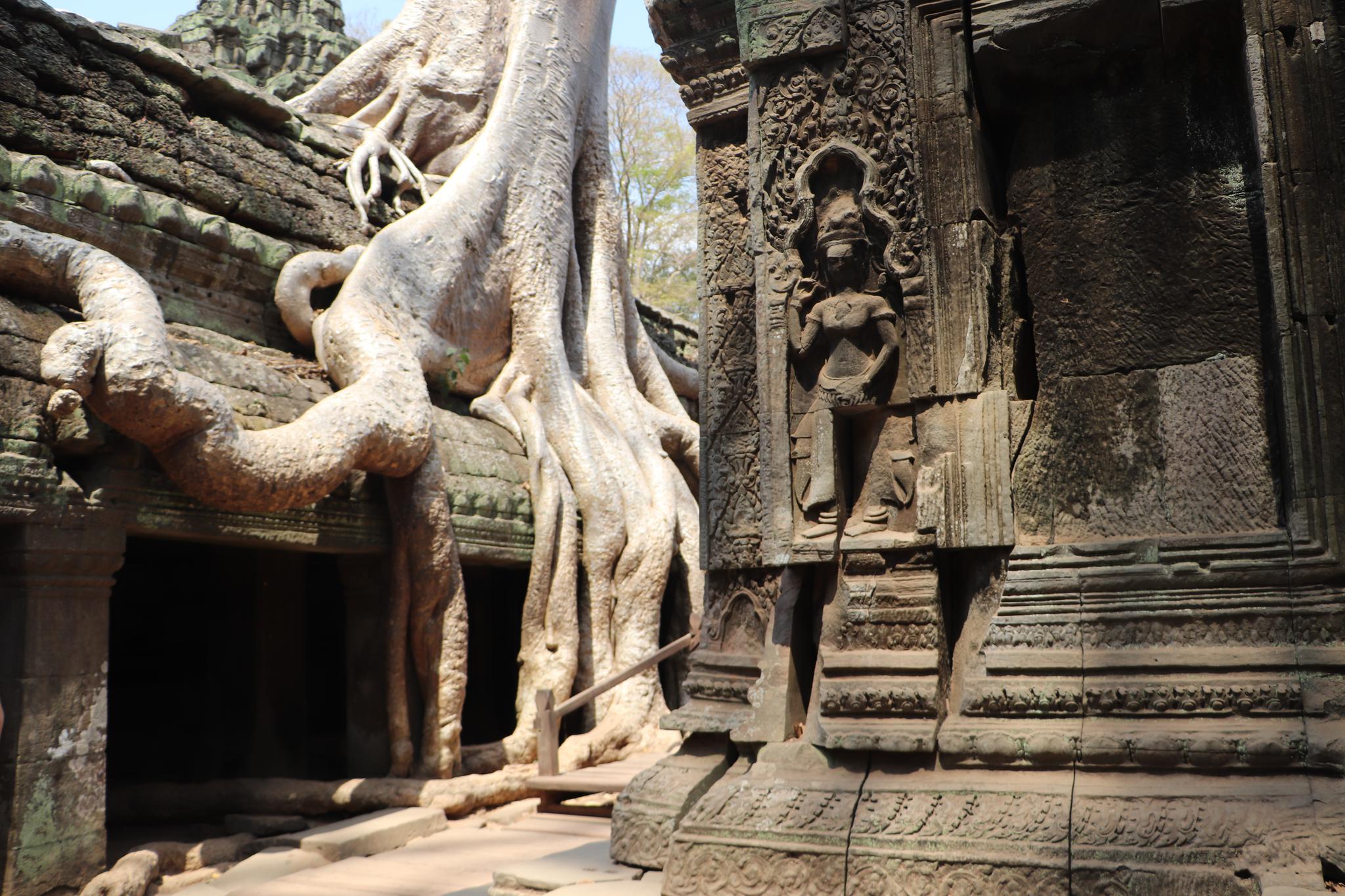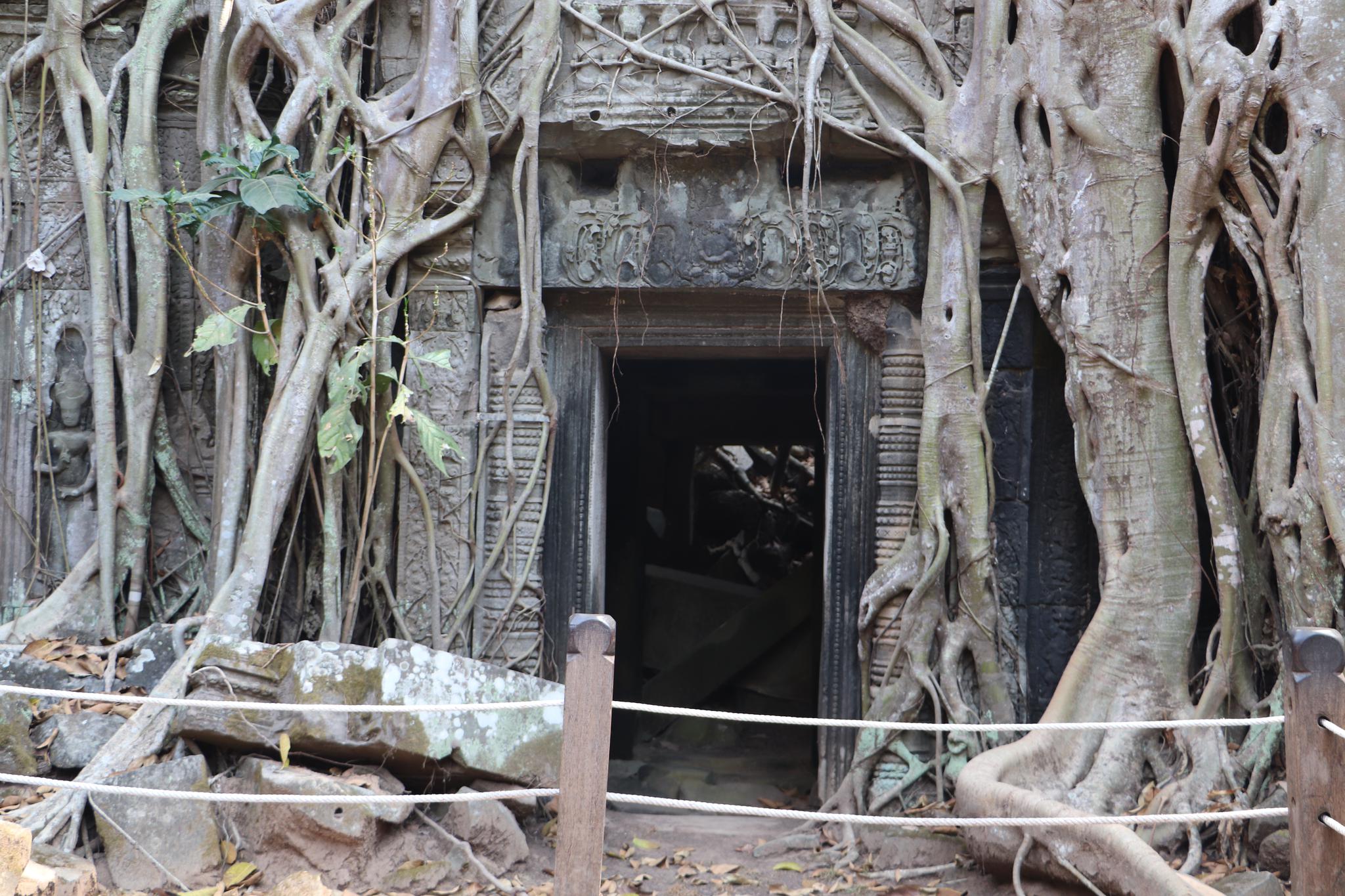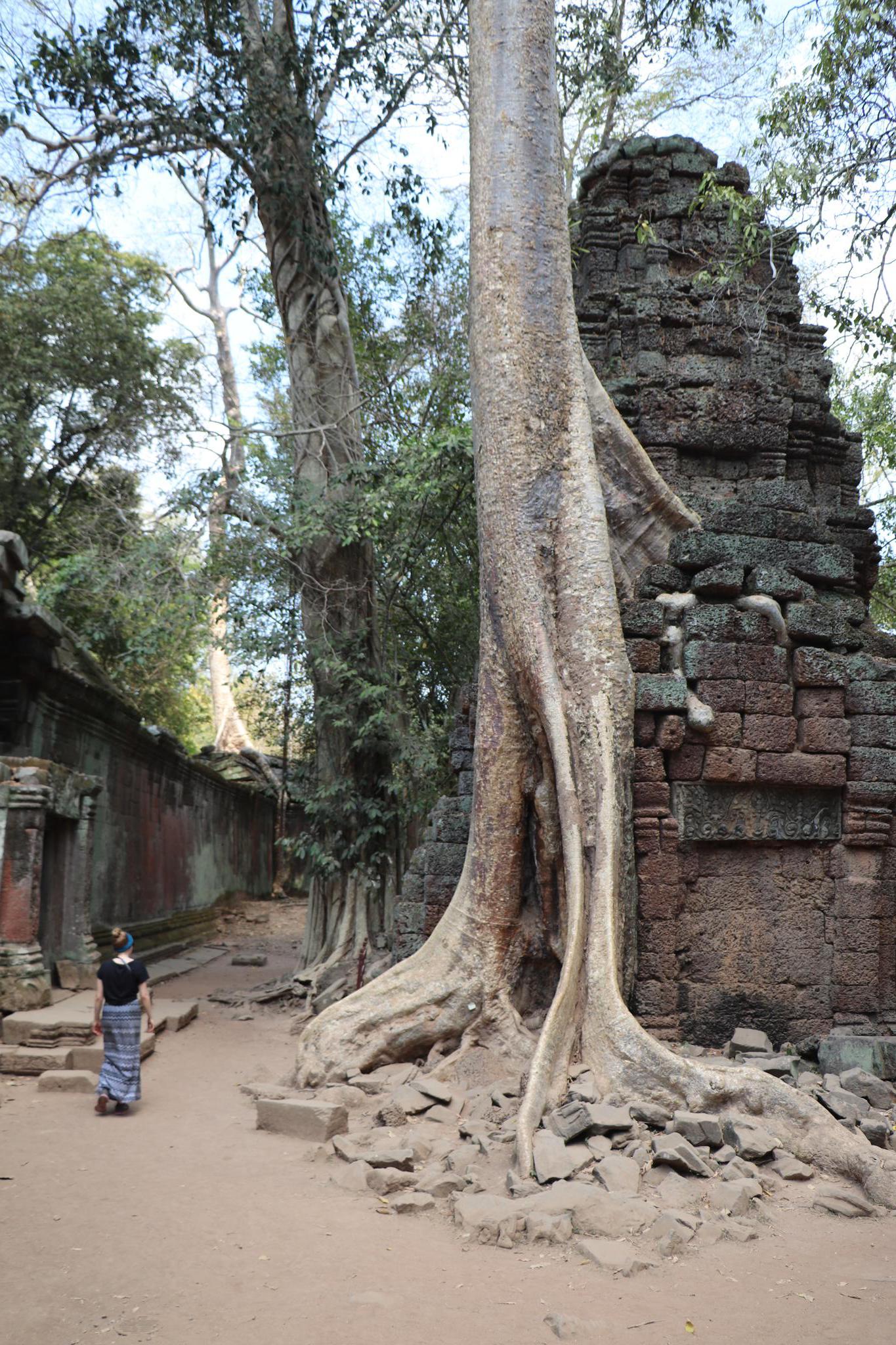 From the back seat of our car, I was staring out in silence at the Cambodian surrounds. In ancient times, they were teeming with abundant wildlife; and just 40 years earlier, the deadly Khmer Rouge army had moved through these parts between 1975 and 1970, killing more than one million people. Toma broke the silence.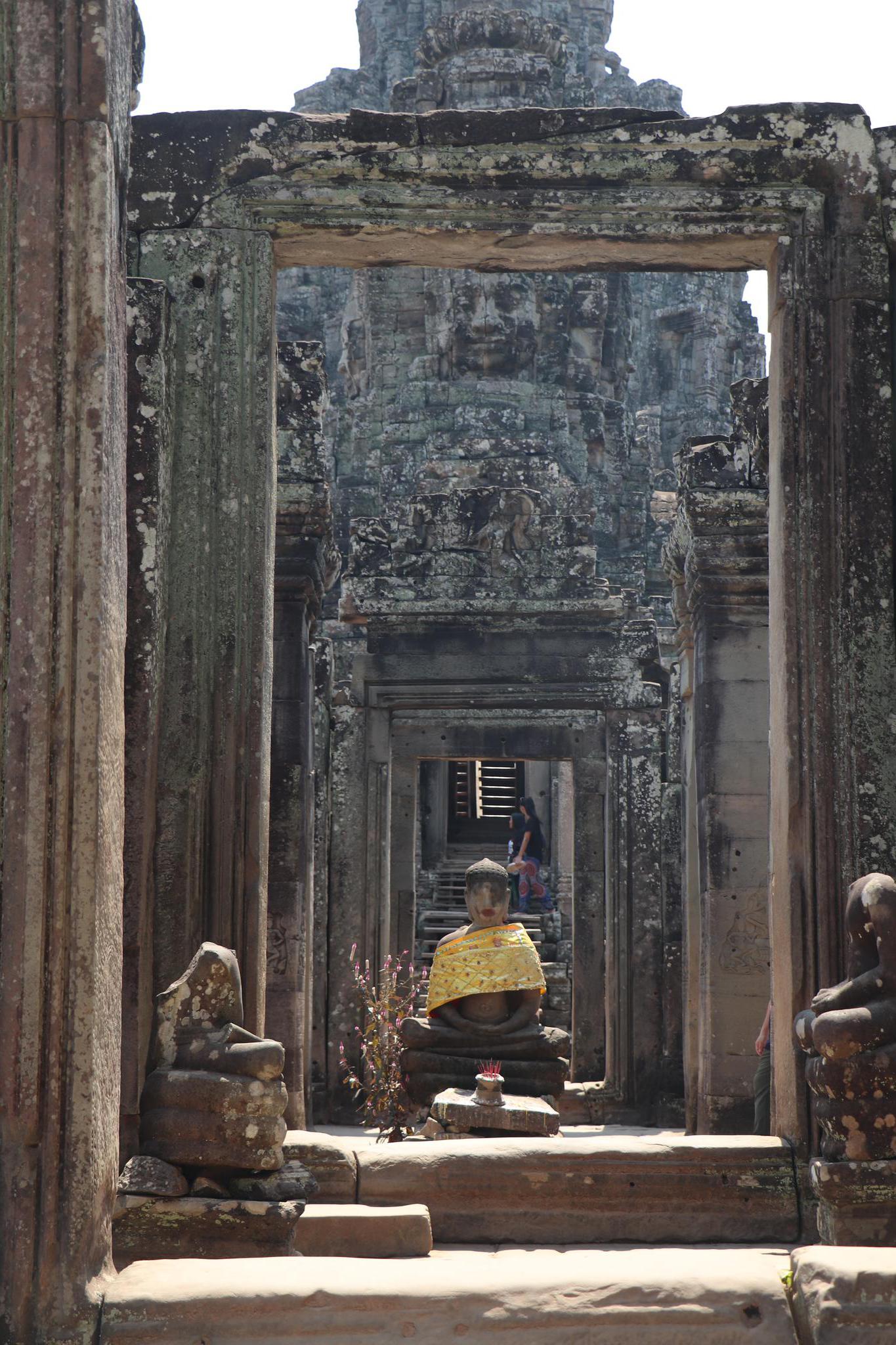 "I believe in my heart, that you're a good person. I can see you have a warmth about you. It has been an honour to meet you – you're a strong, brave woman."
Utterly flawed and humbled, I explained that I'm really just doing my job, here on assignment. As our car pulled back in to the hotel, I felt pure gratitude for not only all that I had learned that morning, but for having Toma to be my teacher. In my short time with him, I'd learned more than just facts and dates but I had experienced in person the optimism, resilience, mindfulness and absolute generosity of the Cambodian people.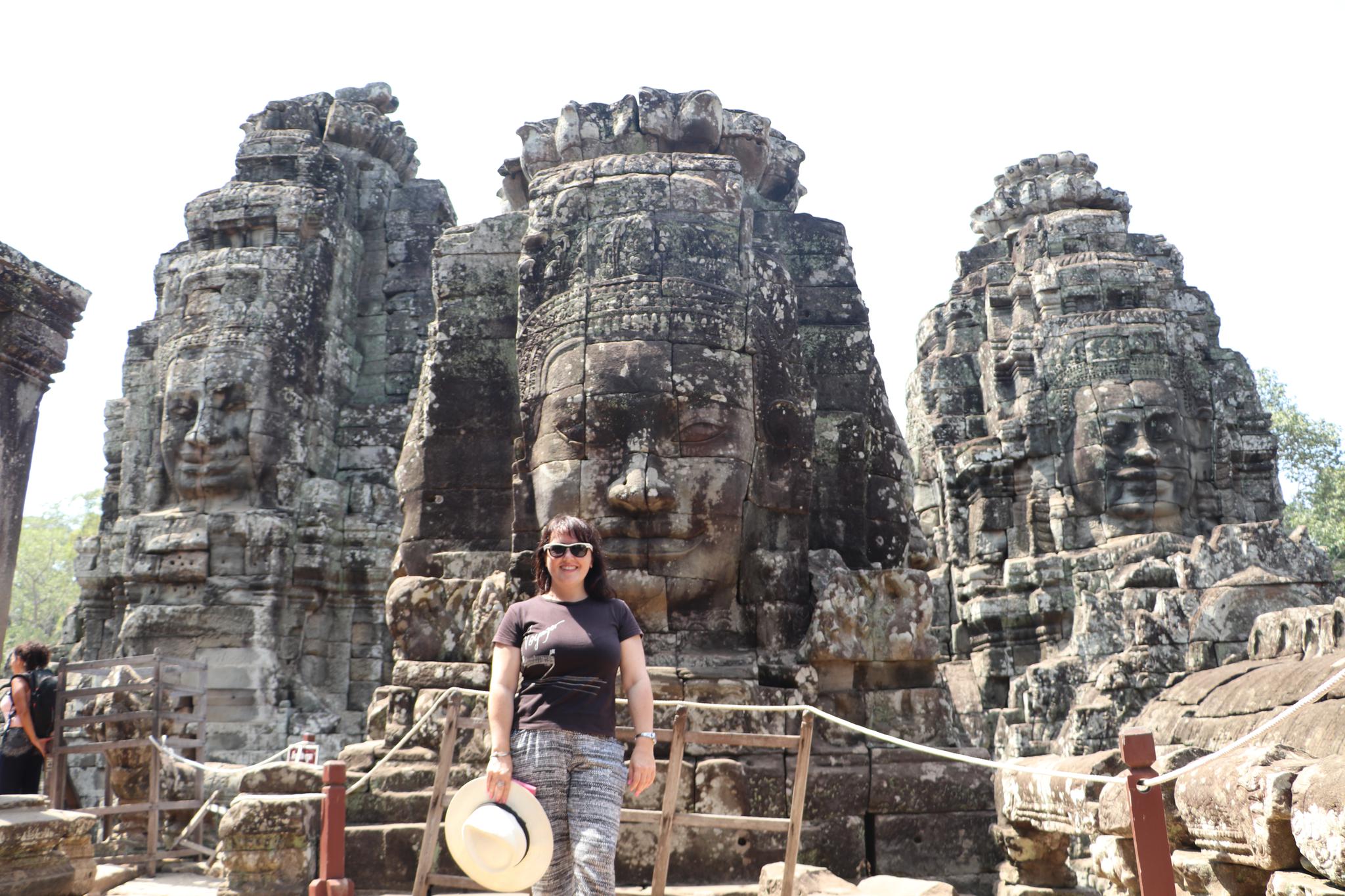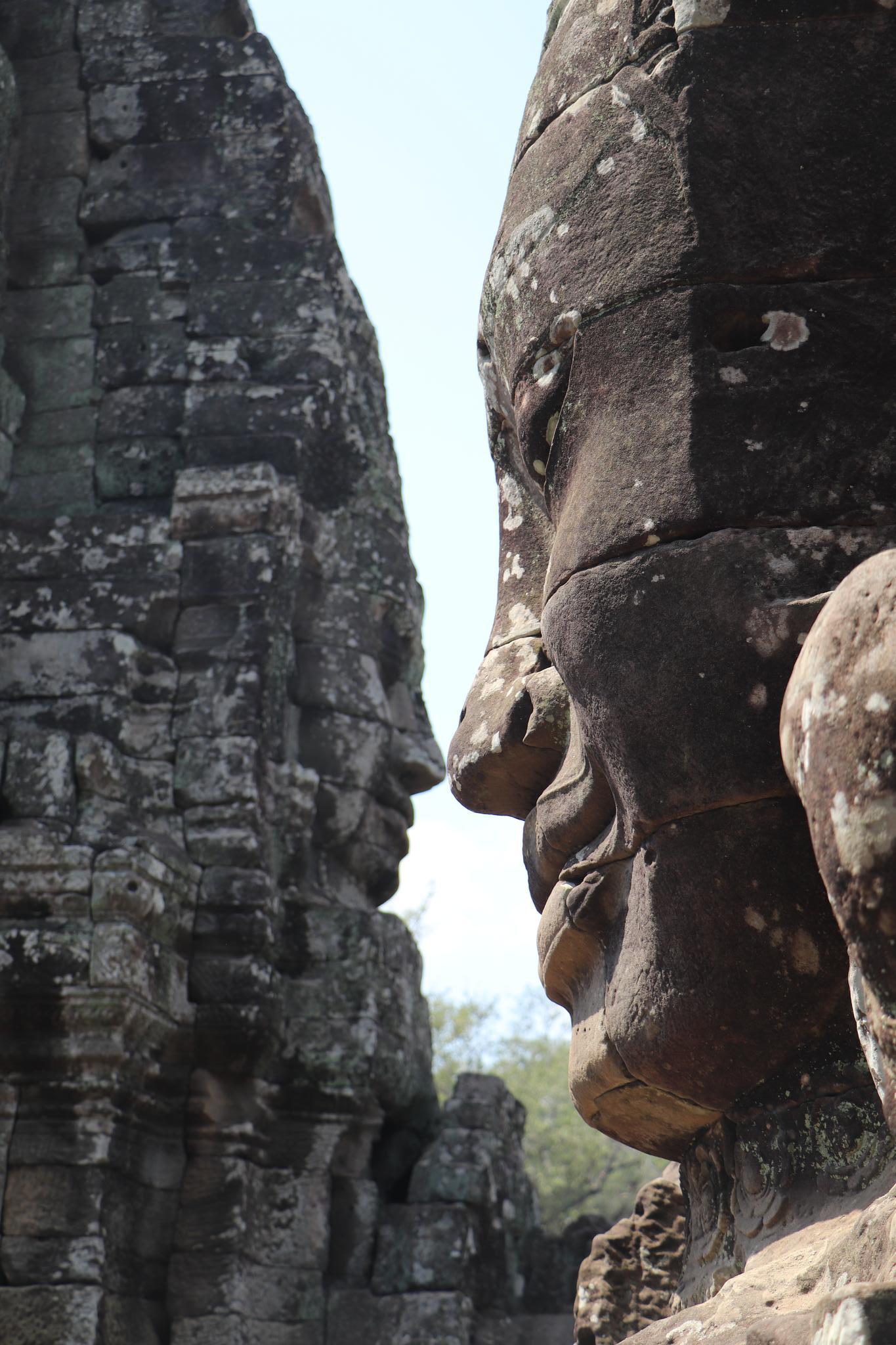 We briefly hugged goodbye and exchanged email addresses and Instagram handles (follow Toma here) 
I will never hear the words Angkor Wat or see a photograph of the temples again without thinking of Toma and his kindness.